China Traitor Gen Milley, China Financial Panic, More Vax Lies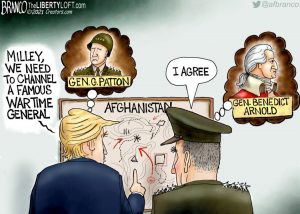 By Greg Hunter's USAWatchdog.com (WNW 495 9.17.21)
Joint Chiefs of Staff General Mark Milley, in the waning days of the Trump Administration, secretly went behind the back of President Trump and his Defense Secretary and called China to tell them if the USA attacked, he would tip the CCP off.  This is, once again, treason by America's top general. Will Milley be punished?  We will see.
It looks like China is having its own "Lehman" financial meltdown, only China's problem institution is five times bigger.  A huge property company called Evergrande has collapsed, and they have stopped trading the company's bonds.  This, very likely, will cause panic selling and a collapse in other markets in China as well as around the world.  Remember, the Lehman Brothers collapse in 2008 did the same thing, and it was five times smaller.
They told us if you got vaxed, you would not catch Covid.  That's a total lie, and people who have been vaxed are way more likely to get Covid.  We were also told the vaccines were safe and effective, and that's a lie too.  Now, in the UK, the government is reporting more than 30,000 people have died 21 days after getting the injection, and the UK has a fraction of the population of the USA.  We are also now seeing cancer skyrocketing in the "fully vaccinated" at a rate 20 time higher than unvaxed people.  There is so much we don't know, and much more bad news is coming out about these ill-conceived so-called vaccines.
Join Greg Hunter of USAWatchdog.com as he talks about these stories and more in the Weekly News Wrap-Up.  (WNW 495 9.17.21)
(To Donate to USAWatchdog.com Click Here)
After the Wrap-Up: 
Karen Kingston, the pharmaceutical and medical device business analyst, will be the guest for the Saturday Post.  Kingston brings us more hard-hitting facts about these awful vaccines being forced on people in America.