Dem Impeachment Disaster Continues, IG Report Drops Bombs, Banks Buying Gold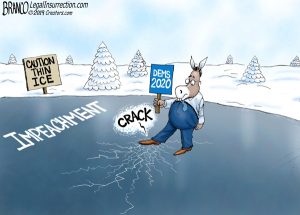 By Greg Hunter's USAWatchdog.com (WNW 413 12.6.19) 
The Democrat impeachment in the House of Representatives continued in the Judiciary Committee, and it continued to be a disaster for Speaker Pelosi and the Democrats. The total takedown of the Democrat case against President Trump was destroyed in little more than five minutes by Congressman Matt Gaetz. The hearings are not proving President Trump's guilt, but his innocence. Of course, the mainstream media is reporting Trump is guilty, and that is a lie according to the evidence. Democrats are taking it on the chin in almost all the polls. Will Pelosi proceed with impeachment? Does she have the votes? Will the Senate trial destroy the Democrats even more? The only fact you can count on right now is the impeachment has been a disaster for Democrats, and saving face with voters may be difficult if not impossible. Pelosi says the Dems will impeach President Trump. We will see if the lies will work.
The FISA/Russia report by the DOJ Inspector General (IG) Michael Horwitz is expected to drop this coming Monday. Reporter John Solomon says, "Forget all the reports of leaks and news stories predicting what's in it. There is only one person who has seen this report, and that is Attorney General William Barr." Solomon says there will be many revelations and confirmations of "failures and misconduct" by the FBI and DOJ concerning spying on everything Trump. There has already been criminal referrals for the players in the failed Trump coup, and you can expect many more. There is also an ongoing criminal investigation happening separately by the DOJ on the coup plotters. The coming months are going to be some of the most destabilizing in the history of our nation.
How is the economy going? It might be more accurate to ask: How is the economic manipulation going to continue to prop up the economy? The Fed is pumping out $60 billion a month in QE, and tens of billions of dollars more are being printed up overnight in the repo market to keep credit flowing. Is there any wonder why central banks are buying gold at a fresh record level in 2019?
Join Greg Hunter of USAWatchdog.com as he talks about these stories and more in the Weekly News Wrap-Up.
(To Donate to USAWatchdog.com Click Here) (Update: YouTube DID monetize this video.)
After the Wrap-Up:
Economist John Williams founder of ShadowStats.com will be the guest for the Early Sunday Release. He says the economy is getting worse, not better.