Dem Impeachment Disaster, No Cut Fed, Financial Warnings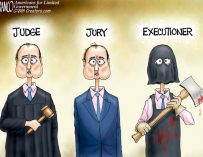 By Greg Hunter's USAWatchdog.com (WNW 410 11.15.19)
The first public hearing for President Trump's impeachment was billed as a blockbuster, but in reality, it was a huge dud. As a matter of fact, it was a disaster for Adam Schiff and the Democrats. The so-called star witnesses called by the Democrats looked stupid when they admitted they had no firsthand knowledge, depended on hearsay and could not articulate an impeachable offence committed by the President. This is not a real impeachment but rather a Deep State operation to get rid of a President calling attention to fraud and corruption.
The Federal Reserve told Congress this week that there would be no more rate cuts. Earlier this year, the Fed reversed course and started cutting rates, and now it has come to a screeching halt to more rate cuts. Why?
There are some big financial names warning that there is big, and I mean very big, trouble on the horizon for the global economy. The U.S. has been in the longest expansion in history, and what is going to happen when the party stops? How will the debt, which has exploded in the last 11 years of expansion, get paid? The short answer–it won't.
Join Greg Hunter of USAWatchdog.com as he talks about the top stories in the Weekly News Wrap-up.
(To Donate to USAWatchdog.com Click Here)  (Update: YouTube did finally give monetization to this video!)
After the Wrap-Up:
To study the charts from Bo Polny click here and view them for free.
John Rubino of DollarCollapse.com will be the guest for the Early Sunday Release. He tells us that under the surface, the economic news is not what we have been told.