Mathematically, Financial System Is Going Down – Bill Holter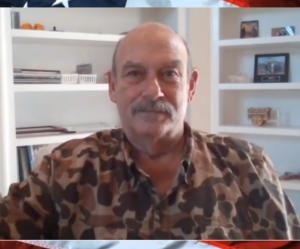 By Greg Hunter's USAWatchdog.com (Saturday Night Post)
Precious metals expert and financial writer Bill Holter warned in August of financial trouble coming to America sooner than later.  He gave a long list that now includes a global war. Even without war, there is no stopping the financial fall that is coming. Central banks are, once again, the biggest buyers of gold this year. What is going on? Holter says, "The central banks fully understand the math behind the financial system of the West is broken.  The Western financial system cannot survive the math. . . .Once we got to 0% interest rates on the bottom, the rates could not go down any further, and the debt continued to pile up. The U.S. Treasury is going to be paying $1.5 trillion a year just in debt service. That number, a few years ago, had been around $400 billion a year. So, the debt service has quadrupled, and there are no more tricks in the bag.
Holter thinks the Fed is being forced to prop up the dollar and explains, "They have to keep interest rates up; otherwise, the dollar is going to be sold.  You are already seeing that in the Treasury markets. . . . That is the reason you are seeing interest rates spike as hard as they have. We are up to about 5% on a 10-year Treasury. . . . Because interest rates are going higher, banks are losing deposits. JPMorgan Chase has lost over a quarter of a trillion dollars in deposits. The whole banking system has lost over a trillion dollars."
Holter points out that interest rates were effectively 0% not that many years ago. That has changed dramatically with dramatic consequences. Holter says, "We are in the biggest bear market in credit in the history of the world. In other words, we have had more losses in the credit markets than there has ever been in the history of history. The credit bubble has popped."
Holter goes on to say, "What happens to the dollar if an aircraft carrier goes down? The value of the U.S. dollar will absolutely collapse. The credit markets will collapse. I do not want to downplay a nuclear war. It is unthinkable, but if you just look at the financial markets, it's system over. The system is done . . . . Without credit . . . Everything runs on credit. Everything you do and everything you buy runs on credit. If credit stops, the real economy completely stops. That's where your 'Mad Max' scenario comes in. . . .Everything stops once credit stops."
Holter thinks commercial real estate is a monster problem, and, now, with 8% 30-year mortgage rates, residential real estate is going to start tumbling. This is just one of many headwinds sinking the economy. Holter predicts, "Mathematically, from a financial standpoint only, forget about geopolitical events.  Mathematically, the financial system is going to come down. I think the odds are very good that this is going to happen before the end of this year. Add in the geopolitical events, and that's just another spark that will create fire underneath the paper the system is."
There is much more in the 44-minute interview.
Join Greg Hunter as he goes One-on-One with financial writer and precious metals expert Bill Holter for 10.20.23.
(To Donate to USAWatchdog.com Click Here)
After the Interview:
BillHolter.com is now 6 months old, and it is still growing by leaps and bounds. There is a new article on the homepage you can read for free.  Check it out!!!
Holter also invites you to email him directly. Simply scroll down the homepage of BillHolter.com and click on Bill Holter's email under "Contact Us" on the right-hand side of the page. You can't miss it.
This segment is sponsored by Discount Gold and Silver Trading. Ask for Melody Cedarstrom, the owner, at 1-800-375-4188.