Inflation Surging, Russia Attacking, Vax Killing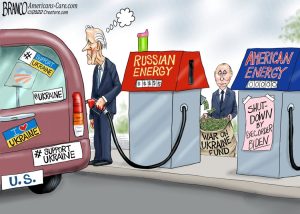 By Greg Hunter's USAWatchdog.com (WNW 518 3.4.22)
Get ready for even bigger inflation than you have already seen.  The indebted global economy was already listing from all the unpayable debt.  Now inflation has made a direct hit.  The economic ship is going down, and inflation is surging.  It's all been put into hyperdrive with the Russian invasion of Ukraine.  It's not going to end anytime soon.
Even though there have been some talks between Russia and Ukraine, the fighting is not stopping.  Russia keeps attacking, and it looks like, at this pace, Ukraine will be destroyed.  Russia is attacking on another front, and that is the economic one.  Russia is turning off its gas and oil to Europe, and Germany is taking a big hit.  How will Germany be making cars or heating their homes with only windmills and solar?   It's not, and that, too, is going to get much worse.
There is new information coming out about how the CV19 injections change your DNA and make dangerous spike proteins.  Swedish researchers at Lund University say that is exactly what is happening, and the CDC has told the world that would never happen.  Pfizer is also denying the findings, but the truth will win out.  A new report from the UK says the "vaccinated" count for 9 out of 10 CV19 deaths in England.  That certainly looks like the vax keeps killing.
Join Greg Hunter of USAWatchdog.com as he talks about these stories and more in the Weekly News Wrap-Up 3.4.22.
(To Donate to USAWatchdog.com Click Here)
After the Wrap-Up:
Renowned geopolitical and economic cycle expert Martin Armstrong will be on the "Saturday Night Post" for an urgent update about what he sees coming soon for the world in the economy and war.
Rob Kirby Update:  Rob is still in a medically induced coma.  He is still on a ventilator, but that has been cut back.  Rob is breathing more and more on his own.  His doctors say this is a very good sign, but Rob is not out of the woods just yet.  Please keep praying for Rob Kirby.