Trump Jerusalem Firestorm, Mueller Witch Hunt Investigation, Bitcoin Panic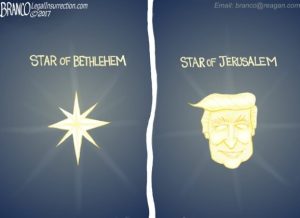 By Greg Hunter's USAWatchdog.com (12.8.17 WNW 312)
President Donald Trump has done what many previous presidents have promised in the past, and that is to recognize Jerusalem as the capital of Israel. Presidents Obama, Bush and Clinton all said they would recognize Jerusalem as the capital of the Jewish state, but never did. The reason was the efforts to get an Israeli and Palestinian peace deal, which has been tried but never accomplished. Now, the world is outraged at President Trump's bold move. Violence is expected, and U.S. allies are angry, but Trump has thrown his support decidedly behind Israel. Is this a Biblical power play that will be blessed by God the Father?
Robert Mueller's investigation into the Trump Administration's so-called Russian collusion has not turned over one single bit of evidence that ever happened. Meanwhile, Mueller's team has been exposed as a bunch of Trump hating Democrats. Now, Congress is asking why a lead investigator has been fired. Representative Jim Jordan says not only is the Mueller investigation biased, but it used a discredited dossier, paid for by Hillary Clinton, to start this phony investigation. Peter Strzok was the top investigator fired for dressing it up as counterintelligence and obtaining a warrant for wiretapping Trump associates and his family.
Bitcoin is hitting all-time highs, and it's not a mania. The skyrocketing price is more like a global panic out of fiat currencies. Now, there is talk of trading Bitcoin on an exchange, but they will have no Bitcoin, and the exchange will be closed on the weekends. Bitcoin trades around the globe and around the clock 24/7. Bankers are worried if this new exchange will even work at all as Bitcoin is decentralized and will run past the new market.
Join Greg Hunter as he talks about these stories and more in the Weekly News Wrap-Up.
(To Donate to USAWatchdog.com Click Here)
After the Wrap-Up:
Catherine Austin Fitts of Solari.com will be the guest for the "Early Sunday Release."