War Coming, More Die "Unexpectedly," Record Inflation, Drought Disaster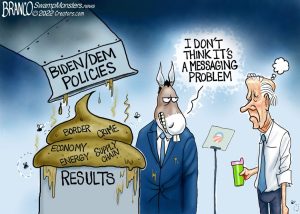 By Greg Hunter's USAWatchdog.com (WNW 538 7.15.22)
There is no getting around the fact that direct war with Russia is coming.  There are zero moves for peace talks, and the only thing that is moving are more weapons to Ukraine.  Meanwhile, the economic sanction war continues to backfire.  Canada has decided to allow a repaired turbine that helps moves natural gas from Russia to Europe to be returned to Russia.  No way that turbine be there before July 22.  That's when Russia says it cannot guarantee the Nord Stream 1 pipeline will function to full capacity. The repaired turbine has been held up by Canada because of sanctions.  There is no telling when it will be put back into service.  Will the economy in the EU and, especially, Germany be shut down even further?  Will the banks fold?  Will Europeans freeze this winter?  All good questions that probably have very negative answers.
Another week and more reports of people who "die unexpectedly."  The reports never ask the question, "Were they vaxed?"  Heaven forbid anyone ask for an autopsy with all of these people dying (many of them young) for no apparent reason.  Might it be they were given a bioweapon that was passed off as a vaccine?  And it's causing heart attacks, strokes, cancers and many other life threatening and life ending problems?
The Bureau of Labor Statistics is out with a new inflation number, and it's hit another fresh 40-year record high at 9.1%.  Shadowstats.com economist John Williams calls bull crap on the rigged "official" inflation number, and he says inflation in the real world is more like 17.3%.  This is bad news for the Biden/Obama White House.  This new inflation spike is going to force the Fed into raising rates in their upcoming July meeting.  That will further tank the economy right into the mid-term election in November.
To go along with the record inflation, there is even worse record drought out West.  Lake Mead and Lake Powell are at historic lows.  The federal government is demanding massive cutbacks in water consumption to make supplies last.  Dane Wigington of GeoengineeringWatch.org says the severe drought is mostly caused by man-made weather modification that the government has been doing for years non-stop.  This is going to have a dangerous and profound effect on food prices and production.
Join Greg Hunter as he talks about these stories and more in the Weekly News Wrap-Up for 7.15.22.
(To Donate to USAWatchdog.com Click Here)
After the Wrap-Up:
Climate engineering researcher Dane Wigington will be the guest for the Saturday Night Post.  He will tell you about the huge water tunnel that was dug secretly to drain every last drop of water out of Lake Mead to send to Las Vegas long after the lake becomes a dead pool.