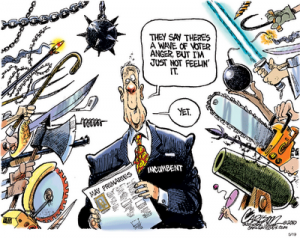 By Greg Hunter's
I am seeing increasing chatter and stories on the Internet about a coming collapse or calamity.  Below is a list of dire predictions put together on Rense.com.  I have started with just the first two.  The people making the predictions are legitimate and big thinkers.  The world has never been here before, monetarily speaking. Cities, states and whole countries are bankrupt and hoping printing money will save them from a hard landing.  Who knows how this will all shake out, but I see 2 things for sure: big inflation and a freak show of bailout and default.  Please read the entire list of predictions.  If these folks are just half right then, we are in serious trouble.
Bob Chapman
First 6 months of 2010, Americans will continue to live in the 'unreality' the period between July and October is when the financial fireworks will begin. The Fed will act unilaterally for its own survival irrespective of any political implications (source is from insider at FED meetings). In the last quarter of the year we could even see Martial law, which is more likely for the first 6 months of 2011. The FDIC will collapse in September 2010. Commercial real estate is set to implode in 2010. Wall Street believes there is a 100% chance of crash in bond market, especially municipals sometime during 2010. The dollar will be devalued by the end of 2010.   
Gerald Celente
Terrorist attacks and the "Crash of 2010". 40% devaluation at first = the greatest depression, worse than the Great Depression.  (Click here for the colplete list of predictions from Rense.com)
 Below is a video from InflationUS.  It has had less than a half million views on You Tube.  I am surprised it has not gotten more play.   Anyone who wants to get a clearer picture of the future should take the time to watch this compelling video.  Please enjoy.