Don't Let The Facts Get In The Way Of A Recovery
By Greg Hunter's USAWatchdog.com 
For awhile, the term "green shoots" was the buzz word for the economic rebound.  Remember that?  The "green shoots" have now turned into a "recovery" almost every time the economy is mentioned.  It seems we are constantly bombarded with stories of how the economy is turning around when the facts say otherwise.
I do want to be positive, but some of the spin I am hearing would make "Baghdad Bob"(Mohammed Saeed al Sahaf) proud.  You remember the former Iraqi Information Minister who made wildly false statements about the 2003 Gulf War.  One of "Bob's" last zingers was, "This invasion will end in failure."
There has been some good news, such as a story that came out earlier this week in the Los Angeles Times.  The headline read:  "Home prices in California show strong, unexpected gains in January." The Times story went on to say, "L.A. leads the S & P/Case-Shiller index of 20 cities with a 1.8% increase from December. The index rises 0.3% overall, its eighth monthly increase in a row." This is great news, but buried in the story is this fact, "A breakdown of the index showed mixed results, with 12 cities posting increases and the rest decreases. When left unadjusted for seasonal variations, the 20-city index fell 0.4%." Yes, the index "fell 0.4%," if you leave out the "adjustments." (Click her for the complete L.A. Times story.) Do you see a recovery in the mortgage reset chart on the below?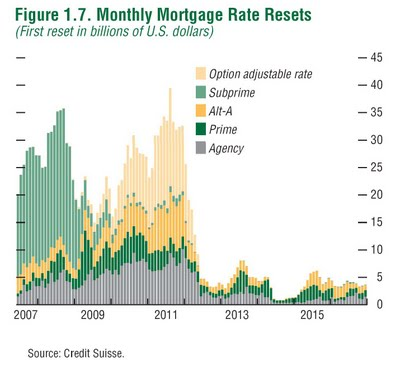 Is this the best the real estate market can do, even with government tax credit programs that pay buyers between $6,500 and $8,000 to buy a house? According to one report, foreclosures are making up more than 40% of sales in some areas.  Also, the government is almost totally supporting the mortgage market by financing at least 90% of the loans.  Is this what a "recovery" looks like?
Then there is news this week about failed mortgage giants Fannie Mae and Freddie Mac who both just hit new all-time records for foreclosures.  Taxpayers are on the hook for more than $6 trillion as the unlimited bailout continues.  Don't expect an improvement on the foreclosure front anytime soon.  White House economic advisor Diana Farrel said late last week, government efforts to stop foreclosures will not prevent as many as 12 million defaults over the next three years!  How is there going to be a meaningful recovery with that going on, and why isn't the mainstream media reporting on this huge Fannie and Freddie taxpayer rip-off? (Click here to read more about Fannie Mae.)
Speaking of stories getting ignored, nearly every week there is a fresh batch of insolvent banks that are taken over by the FDIC.  So far this year, 40 banks have gone under. Elizabeth Warren, head of the Tarp Oversight Committee, projects 2,800 community and regional banks could fail in the next 3 years because of sour loans.   That is nearly 40% of the 8,000 banks in America.  How is this "recovery" going to take hold?
There are so many other real impediments to the "recovery" story it is almost comical.  There are ballooning government deficits, hundreds of trillions of dollars in unregulated derivatives (like the ones wrecking the Greek economy) and dozens of U.S. states in dire financial trouble—to name a few!  These problems, and many more, make talking up a recovery look like "Baghdad Bob" is writing the wire copy.
All this is the backdrop for which Congress passed health care reform.  It is the biggest entitlement program since Medicare.  Economist John Williams says the government's health care takeover will "depress the economy" and make the "deficit and inflation" much worse.  Not to end on a gloomy note, I leave you with this quote from an unknown author:
"Let me get this straight. We're going to be gifted with a health care plan written by a committee whose chairman says he doesn't understand it, passed by a Congress that hasn't read it but exempts themselves from it, to be signed by a president who also hasn't read it and who smokes, with funding administered by a treasury chief who didn't pay his taxes, to be overseen by a surgeon general who is obese, and financed by a country that's broke. What the hell could possibly go wrong?" –origin unknown