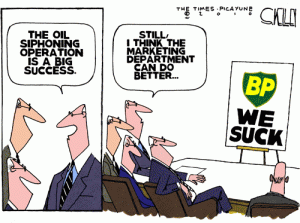 By Greg Hunter's
The runaway gushing oil well in the Gulf of Mexico is an unmitigated national emergency.  The mile deep, broken well is vomiting oil at a rate of at least 56,000 barrels a day according to Steven Wereley, an associate professor of mechanical engineering at Purdue University.  That is 10 times higher than BP's 5,000 barrel a day estimate. 
If you believe Stephen Wereley's minimum estimate, and I do, then during the last 37 days since the well exploded, more than 87 million gallons of oil have been spewed in the gulf. (Click here for the full story)   That is nearly 8 times greater than the Exxon Valdez disaster that spilled 10.8 million gallons on the coast of Alaska 21 years ago.  Remember, this is a minimum estimate; it could be much, much higher.  As I write this, the well is still spewing oil.
The spill does not just affect the states that border the Gulf, but the entire country.   The Gulf is a major asset and a national treasure.  In the end, it will be America stuck with a large part of the clean-up bill.  The people in Alaska are still dealing with the after effects of the Valdez.  Exxon fought paying claims for nearly 20 years until company lawyers got damages reduced to a mere $500 million from an original award of $2.5.billion.  This can not happen again on an even larger scale.  That's why I say freeze BP's assets now, at least in the U.S.!  
There has been some tough talk from the Obama Administration about BP.  Interior Secretary Ken Salazar said this week, "We will keep our boot on their neck until the job gets done. . . This is a BP mess, it is a horrible mess and it is a massive environmental mess."  First of all, we need boots on the ground and boats in the water, not tough talk about "boots on their neck!"   This should have been a full court press five weeks ago when this tragedy first started.  I mean all hands on deck for this one– National Guard, Army, Marines and the U.S. Navy.  Step up and do whatever it takes to protect the coastline.  Salazar is dead wrong to call this "a BP mess."   It is a BP liability, but this mess belongs to America!
Salazar also said, "If we find that they're not doing what they're supposed to be doing, we'll push them out of the way appropriately and we'll move forward to make sure that everything is being done to protect the people of the Gulf Coast. . . ."  That is the statement of an imbecile bureaucrat that should have moved immediately to work hand in hand with BP to get the spill under control.  Instead, Salazar is waiting for BP to fail!  How stupid!  I am sorry for the blunt commentary, but I cannot assess this man's leadership any other way.  Salazar is the one who should be pushed aside because he is letting the disaster grow without doing all that can be done to minimize the damage.
The Governor of the State of Louisiana, Bobby Jindal, has been an outspoken critic of the administration's response to the spill.  I know some will say that's just partisan politics but, in this instance, Governor Jindal has a legitimate complaint.  70 miles of his state's coastline is already covered in oil.  By the time this is finished, I predict every state in the Gulf will have oil on its beaches.  Remember, this is already at least an 8 times bigger spill than the Valdez calamity.  This is not some far away, sparsely populated state but several states that are many times more populated than the Alaskan coast.
I am sure BP will pay some heavy fines.  According to a Reuters story on Monday:  The head of the U.S. Environmental Protection Agency, Lisa Jackson, said the government would "absolutely" levy fines on BP over the spill.  "There are certainly going to be opportunities for fines and penalties," she told reporters.  (Click here for the complete story)  Fines!  So What!  That will only cover a fraction of the cleanup cost and damages that will stretch years into the future.
I do not expect BP to do the right thing by America because the company is also quietly doing business with Iran!  This is a country that is a known state sponsor of terrorism and a perceived enemy of the United States.  (Click here for more on that story)  So, forgive me if I do not trust BP to operate in the best interest of America while dealing with this oil gusher.  That is why I say, "freeze BP's assets now," to make sure it pays for the mess and damages it created.