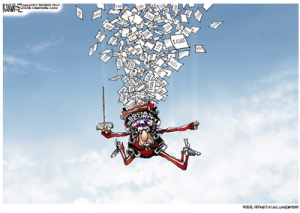 By Greg Hunter's USAWatchdog.com    
In December of 1997, the National Center for Policy Analysis ran this headline on their website "Social Security Problems Accelerating."  The article stated, "A recent General Accounting Office report warns that the long-term prospects for the Social Security system may be even worse than we think. It is already well-known that by 2014 current tax revenues will be insufficient to pay current benefits . . ." Looks like the GAO was right.  It was "worse than we think," because this year, according to an Associated Press story, Social Security " . . .  is projected to pay out more in benefits than it collects in taxes — nearly $29 billion more."  The problem everyone thought could be pawned off on another generation is now sucking up an extra $29 billion– this year alone.
The AP article completely down plays the seriousness of this new expenditure.  It reassures readers by pointing out that the SS fund is covered by $2.5 trillion in IOU's from the federal government.  Is an IOU the same as cash saved in what former Vice President Al Gore called a "lockbox," during the 2000 presidential campaign?  The article went on to say, "Gore lost the election and never got his lockbox. But to illustrate the government's commitment to repaying Social Security, the Treasury Department has been issuing special bonds that earn interest for the retirement program. The bonds are unique because they are actually printed on paper, while other government bonds exist only in electronic form." (Click here for the complete AP article)
I don't care if these bonds are actually printed on paper.  The only way they would truly be worth something is if the IOU's were printed on gold bars!  A government IOU is simply a claim on future taxes, borrowing or money printing.  I suspect all three will be applied to pay for the tsunami of retirees that started hitting the system in mass this year.  If additional Social Security spending was the only thing the U.S. government had to worry about, this could be managed.  But the U.S. has to pay for trillions in bailouts, stimulus, wars and additional social obligations, all at one time.  Because of this, there are now serious concerns regarding selling Treasury bills to finance the huge mountain of debt. Recently on CNBC, money manager Peter Schiff said, "If you are thinking about U.S. Treasury debt, think junk bonds, think subprime mortgages.  There is no way we can pay this money back.  There are two things we can do, we can default legitimately or we can do it through inflation."  Inflation is where we print money to pay our bills, and that will ultimately devalue our currency.  There is no wonder why Schiff and other money managers are investing in things like natural resources, foreign stocks and precious metals.
The additional cost of Social Security taking in less money than it pays out is a real milestone on the road to a lower standard of living for most Americans.  The mainstream media looked at the $29 billion shortfall in SS with a yawn.  It should be screaming in horror because the problem of tomorrow is here today.