USA Actually Bankrupt Now-Laurence Kotlikoff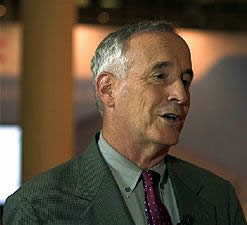 By Greg Hunter's USAWatchdog.com
Renowned Boston University Economics Professor Laurence Kotlikoff is running for President with a write-in campaign. He says we need an economic expert, not a politician, to fix our severe financial problems.  Dr. Kotlikoff explains, "Our democracy is in trouble.  We have 14% of the electorate who have chosen Hillary Clinton for us to vote for, and a different 14% have chosen Trump to vote for.  The vast majority of the population realizes neither Clinton nor Trump are qualified.  Just on the economic front, these folks have no idea how fiscally sick our country is.  The fact that we have off-the-book liabilities that make our true debt roughly 15 times larger than the amount the government is actually reporting, so, our true debt is about $206 trillion.  The debt the Congressional Budget Office is telling us about is about $13.5 trillion. . . . We're short $206 trillion.  The country is 53% underfinanced.  So, the country is actually bankrupt right this minute. It's not $206 trillion in the future that we owe, it's $206 trillion today.  It's our credit card bill, and we're broke."
Kotlikoff goes on to say, "So, if you put everything on the books, we're broke, and we've been printing money out the wazoo since 2007 to pay Congress's bills. That's the truth about quantitative easing.  We need to have somebody who knows what's going on in the big picture here and has a game plan to get rid of this fiscal gap, and do it without total chaos.  If we leave things the way they are, people will view the country as leaderless fundamentally and printing money to pay its bills.  Then, the expectation will occur, and that's going to raise rates, and that's going to drop bond prices, and that will sink the banks, and, yes, you can have another great recession like Bill Gross is referencing (bond super nova).  I've been saying this for decades.  The time for the last straw to drop on the camel's back, and when it's going to drop that camel is hard to say.  If you look at the fundamentals, and the fundamentals look like that of an emerging country, we are the most indebted developed country relative to GDP of any country around. We are in worse shape, I believe, than Russia or Greece, and far worse shape than Italy."
Join Greg Hunter as he goes One-on-One with Professor Laurence Kotlikoff, who is running for President in 2016 with a write-in campaign.
(There is much more in the video interview.)
After the Interview:
Dr. Kotlikoff has ideas to fix health care, the tax system and many other problems as well. Dr. Kotlikoff thinks everything should be redesigned all at the same time.  Dr. Kotlikoff says he has done algorithms via computer models to test out his policies into the future.  Dr. Kotlikoff also thinks that people have to have an incentive to work instead of disincentives.  For detailed information on the Kotlikoff Presidential campaign, and for his plans to fix America, go to Kotlikoff2016.com.