Covid War Ending – Gerald Celente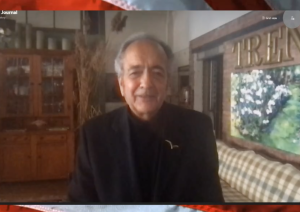 By Greg Hunter's USAWatchdog.com (Saturday Night Post)
Renowned trends researcher and publisher of "The Trends Journal," Gerald Celente, boldly predicted back in April 2021, "We are going to start seeing a big anti-vax movement."  He was spot on.  Now, Celente has another bold prediction:  "The Covid War is coming to an end."  Celente explains, "On the virus, my forecast is the Covid war is going to end.  Wind down, I should say significantly, by the end of March to mid-April.  The new fear they are going to be selling after that is climate change."
The wind down of Covid is really financial necessity.  Celente says, "It's killing businesses.  New York City is a dead town.  One after another you look at the places going out of business, and they are getting push back now.  They can't go on with this anymore. . . . They are killing the hospitality business, the restaurant business, they are all going down.  They can't go on like this, and they need the tax money.  Politicians never work a day in their lives, so they need the money coming in."
On the economic front, Celente predicted months ago that the Fed would be forced to raise rates.  Now, the official inflation rate is 7%.  The Fed is going to raise rates to fight inflation.  Celente says, "Here is our forecast.  This is a Paul Volker 2.0.  You go back to 1982 and inflation was skyrocketing.  They dramatically raised interest rates to stop it.  (The Fed Funds Rate hit 20% under Volker's plan.)  So, they stopped inflation.  They also dragged down the economy. . . . The markets are going to go down. . . . I don't see a crash, at this point, in real estate."
Celente also says oil could keep rising and inflation too.  Celente says, "They are going to have to keep raising interest rates more and more to fight inflation, and if that keeps going, that's when it will collapse.  If inflation keeps going up and they have to raise rates much beyond the 2% mark, it's over."
Celente also gives his take on what is going on in Ukraine, and it's not flattering to the Biden Administration.  Celente talks about many other top trends as well.
Join Greg Hunter of USAWatchdog.com as he goes One-on-One with the top trends researcher on the planet, Gerald Celente Publisher if The Trends Journal.  (1.29.22)  (There is much more in the 57 min. interview.)
(To Donate to USAWatchdog.com Click Here)
After the Interview: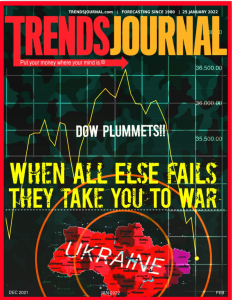 There is free information on TrendsResearch.com.
If you want to become a subscriber of The Trends Journal (which is weekly) click here.
This segment is sponsored by Discount Gold and Silver Trading. Ask for Melody Cedarstrom, the owner, at 1-800-375-4188.