We Are at the End of Civilization – Gerald Celente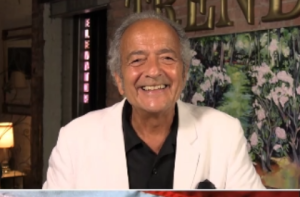 By Greg Hunter's USAWatchdog.com
Renowned trends researcher and publisher of "The Trends Journal," Gerald Celente, says the trend for the world is very dark because of the increasing prospects for a World War.  Celente pointed out a year ago to an unsuspecting public that "World War III has already started."  There is no end in sight to the Ukraine war, and it is only getting more intense.  Celente says, "We are at the end of civilization.. . .Let's talk about the Ukraine war.  Thanks to the U.S. and NATO, they ramped up a situation that would have been over a year ago if we minded our own business.  Now, it's bombs away in Moscow with the drones they are sending in . . . . World War III has begun, and we are on the verge of nuclear annihilation.  Look at these people on the cover of the Trends Journal.  They are out of their minds.  They are evil, demonic, psychopathic, pathological lying freaks."
Since 2014, Celente and his Trends Journal has been warning "Washington is driving the world to the final war."  Looks like we are in the final war now.  Celente says the people currently in office in Washington D.C. will do anything to hold on to power.  This includes massive cheating in the 2024 Election and jailing Trump if the Deep State can pull it off.  Despite the fact Donald Trump is leading the GOP field for the White House in 2024, Celente says they will make sure he does not return to office by cheating him out–once again.  Celente also says that Bobby Kennedy Jr. looks like he is trending higher, but he, too, will have to contend with the cheating.
If the cheating does not look like it's going to work, Celente says, "When all else fails, they take you to war."  Celente says he would not be surprised if a war does not ramp way up before the 2024 Election.
Celente has more bad news you need to consider on the economic trend.  The higher interest rates go to fight inflation, the more it will damage the economy.  Celente contends the Fed is going to lower interest rates just in time for the 2024 Election.  Celente says, "When they lower interest rates, the dollar is going to dive.  This will be the beginning of the death of the dollar.  Gold prices are going to skyrocket.  The only reason gold prices are low is because of the strong dollar.  Then you will start seeing the beginning of the unwinding of the economy.  That's the beginning of the death.  Also, look at the BRICS (currency) and the 40 countries that have already joined and don't want the dollar."
In closing, Celente says, "People need to get prepared physically, mentally and spiritually because you are in a fight for your life. . . . United we stand and divided we die."
There is much more in the 53-minute interview.
Join Greg Hunter of USAWatchdog.com as he goes One-on-One with the top trends researcher on the planet, Gerald Celente.  He's the publisher of "The Trends Journal, which has new original cutting-edge material each and every week for 8.1.23.
(To Donate to USAWatchdog.com Click Here)
(Tech Note: If you do not see the video, know it is there. Unplug your modem and plug it back in after 30 sec.  This will clear codes that may be blocking you from seeing it.  In addition, try different browsers.  Also, turn off all ad blockers if you have them. All the above is a way Big Tech tries to censor people like USAWatchdog.com.)
After the Interview: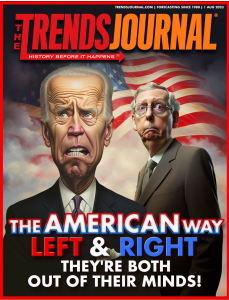 There is free information on TrendsResearch.com.
If you want to become a subscriber of The Trends Journal (which is weekly) click here.
This segment is sponsored by Discount Gold and Silver Trading. Ask for Melody Cedarstrom, the owner, at 1-800-375-4188.