Dow Plunge, Bolton In, Facebook Folly
B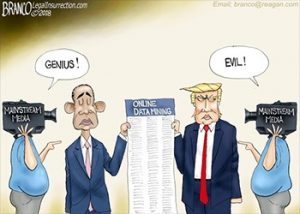 y Greg Hunter's USAWatchdog.com (WNW 327 3.23.18)
The DOW took a cliff dive into a shallow pool and crashed more than 724 points. Some say it was because of the possibility of a new trade war.  Trump announced new tariffs against China.  Gregory Mannarino of TradersChoice.net says it's not just trade war fears driving the market down.  It is also interest rate hikes by the new Fed Chairman, and the exploding federal deficit with the latest $1.3 trillion spending orgy getting ready for passage in Washington D.C.  Mannarino says, "This is going to go until we hit a wall, and that wall is getting closer every day."
White House National Security Advisor H.R. McMaster is going to resign. The "lame-stream" media got this wrong last week when it claimed McMaster was fired.   Now, Trump is going to replace McMaster with former U.N. Ambassador John Bolton.  Bolton hates the Iran "no signature" nuclear deal, and it's not a coincidence Trump's incoming Secretary of State Mike Pompeo also dislikes this "no signature" deal to curtail Iran's nuclear program.
Facebook was gamed for 50 million user profiles by the GOP, and the liberal mainstream media and Democrats alike are all bent out of shape about this privacy breach. Of course, when Facebook was gamed for personal information by the Obama Campaign, it was not a problem.   Recently, it was revealed by a former Obama campaign official that Facebook was "on our side" in the 2012 election.
Join Greg Hunter as he talks about these stories and more in the Weekly News Wrap-Up.
(To Donate to USAWatchdog.com Click Here) 
After the Wrap-Up: 
Dr. Dave Janda from "Operation Freedom" will be the guest for the "Early Sunday Release." Janda uses his deep Washington D.C. sources to update us about what is going on behind the scenes in the D.C. swamp.