Gates of Hell Will Not Prevail, Canadian Truckers and META Tanks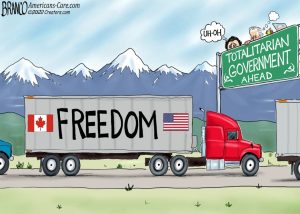 By Greg Hunter's USAWatchdog.com (WNW 514  2.4.22) 
Evil is on the attack in our world, but "Fear Not," it's losing.  Matthew 16:18 Christ said, "And I say also unto thee That thou art Peter and upon this rock I will build my church and the gates of hell shall not prevail against it."  This means evil shall not prevail against the followers of Christ, and right now, evil is getting its tail kicked.  The covid scam has all but ended.  Evil powers at CNN are fighting each other in an "evil hating on evil" theme.  It's another sign that evil knows the scam is up, and the evil demons pushing this crap are running for cover.  The truck drivers and farmers in Canada are the boulders (not sprinkles) flattening the Covid cake.  PM Justin Trudeau is in hiding because even he knows he's finished.
Meanwhile, news keeps coming out proving over and over again that Covid is a scam, and the vax is a depopulation bioweapon.   There should be serious jail time and public executions for the medical and pharmacy boards, Big Pharma, hospitals and government officials that pushed this depopulation event.  They ignored all facts that said the vax was not effective and NOT safe, and it's still NOT.   This will be known as the biggest live and ongoing human experiment with gene altering mRNA in the history of the planet.  NAZI doctor Joe Mengele would be proud of the enormity of the carnage now and in the not-so-distant future.  It will also shamefully be known that the evil globalists denied life saving drugs to the public such as HCQ and Ivermectin simply to kill as many as possible and force them to take a worthless and damaging shot.  There is no medical reason for depriving the public of life saving medication unless you simply want people to die.
Facebook, now known as META, fell on its face today.  It is never going to be the same.  It lost more money in one day than the equivalent of three General Motors total market cap.  Remember what Charles Nenner said about a few tech companies holding up the markets?  META was one he was referring to.  Nenner would tell you to take some risk off the table—he did.
Join Greg Hunter as he talks about these stories and more in the Weekly News Wrap-Up 2.4.22.
(To Donate to USAWatchdog.com Click Here)
After the Interview: 
Dr. Betsy Eads (one of the most popular guests of 2021) will be the guest for the Saturday Night Post.  Dr. Eads has more revelations about the criminal activity in the Covid and Vax scams.  Dr. Eads will reveal that there is now another way for these so-called vaccines (AKA) bioweapons to kill you.  Hint: it involves injecting people with HIV.  I kid you not.