Hydroxychloroquine Works on Virus, Unemployment Explodes, Economy Plunges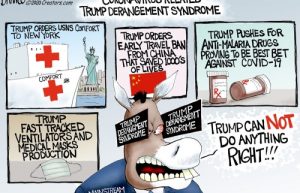 By Greg Hunter's USAWatchdog.com (WNW 425 4.3.2020)  
I keep yelling at the TV to give sick people hydroxychloroquine every time I see medical experts concentrating on pleading for masks, hospital beds and ventilators to combat the coronavirus. Why give hydroxychloroquine? It has been proven in small tests around the world that it works with little to no side effects. In countries like China and Turkey, it is given at the first sign of trouble, and their results are clear—it works and actually removes the China virus.
We got more bad numbers from the Bureau of Labor Statistics. Unemployment shot up again this week to 6.6 million. Add that to last week's numbers, and you get about 10 million new unemployment claims in the last two weeks alone. It's going to get worse.
As unemployment spikes, the economy plunges, and we are hearing huge downward numbers with car sales. Real estate has also hit a wall in terms of sales. On top of that, it is projected as much as 30% of all mortgages will default soon. Money manager Michael Pento is predicting the worst economic news in history to be reported in April, and it is only the third day of the month.
Join Greg Hunter of USAWatchdog.com as he talks about these stories and more in the Weekly News Wrap-Up.  (This video has been demonetized.)
(To Donate to USAWatchdog.com Click Here)
After the Interview:
Catherine Austin Fitts, publisher of The Solari Report, will be the guest for the Early Sunday Release.