IG Report Bombshell Just Beginning, More Anti Trump Media Lies, Economic Update
On June 15, 2018
In Media
109 Comments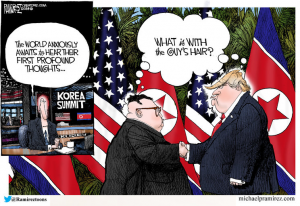 By Greg Hunter's USAWatchdog.com (WNW 339 6.15.18)
The long awaited Inspector General (IG) report on the FBI and how it handled the Clinton email (exoneration) case is out, and it has destroyed the reputation of fired FBI Director James Comey. It is also just the beginning in destroying the careers of many at the FBI and the Department of Justice (DOJ). There are many revelations including a goal to "stop" Trump from becoming President. Well, they failed. Now, buckle up because this is just getting started. Coming up, Hillary Clinton's treason and phony documents used to spy on Trump. Lots of people are going down for treason, fraud, obstruction and other bigtime crimes.
The President traveling to Singapore and getting the leader of North Korea to sign a document agreeing to denuclearizing the Korean peninsula is huge, but you would not know it if you watched the phony propaganda of the mainstream media (MSM). Even though their ratings continue to tank, they just can't stop the idiotic Trump hating they get paid by the MSM to do.
The Federal Reserve raised interest rates another ¼ of a point and said the economy is doing great. Is it really doing that well? It depends on who you talk to. Some say this is the best economy in years, while others are warning of another financial calamity like 2008 or worse. What's going on?
Join Greg Hunter as he talks about the week's top stories in the Weekly News Wrap-Up.
Greg will analyze the brand new Inspector general report, the Trump deal to denuclearize North Korea and give you the truth about the economy.
(To Donate to USAWatchdog.com Click Here)
After the Interview: 
Catherine Austin Fitts of Solari.com will be the guest for the "Early Sunday Release."  She will talk about the economy here on earth and the one that is growing in space.