Lessons From A Dubai Default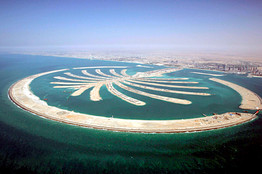 By Greg Hunter's USAWatchdog.com
Last week, just before the Thanksgiving holiday, Dubai World asked creditors if it could suspend payments on nearly $60 billion in debt.  Experts call this a "technical default" by Dubai itself because it owns Dubai World which is a state run investment company.
Imagine calling your banker and telling him that you are not going to make your mortgage payment for at least 6 months; that would also be considered a technical default.  The folks defaulting on their debt are famous for building the man-made palm tree shaped island in the Persian Gulf.  Ya think maybe they over did it?
Now, according to Reuters, there may be some sort of bailout by the U.A.E central bank.  "The United Arab Emirates' central bank set up an emergency facility on Sunday to support bank liquidity in the first policy response to Dubai's debt woes that threatened to paralyze lending and derail economic recovery."  (Click here for the complete Reuters story.)     
Problem solved, right?  Not by a long shot, according to banking analyst Dick Bove.  The problem is the financial system is murky.   You have things like derivatives, credit default swaps and off balance sheet accounting that make it hard for banks to tell how   much they might lose on bad Dubai debt.  Bove said in an online CNN story, "There could be huge indirect exposure," he said. "One has to assume that U.S. banks will be hurt."  (Click here for the complete CNN story.)
It is not just American banks that might take a hit, but also some European Banks will probably be forced to take some big losses.  We won't know how the Dubai financial crisis will work out for weeks or maybe months.  Dubai has $12 billion in debt coming due before the end of 2009 and plenty more debt due in 2010.
So where are the lessons here concerning the Dubai debt default?  Two things come to mind.  If you thought that the financial crisis was ending, then Dubai is a reminder that the crisis is growing not shrinking.  I wrote about the U.S banking troubles last week in a post called the "FDIC Is Way Beyond Broke."   This new Dubai default could not come at a more inopportune time, especially for U.S. banks.
Also, this is a worldwide banking crisis that will require a worldwide solution. That solution seems to be the same on every continent.  Dubai will likely print money and let nothing collapse just like everyone else.  By the way, The U.S. Mint suspended the sales of Gold and Silver Eagle coins on the same day Dubai announced its "technical default."  That probably is a coincidence but, then again, if you have a banking crisis, do you want people taking money out of the system and buying precious metals?
The Dubai crisis is a sign that the global financial meltdown that began in 2007 is just picking up steam, and it will get a whole lot worse before it gets better.