Meet the Mainstream Press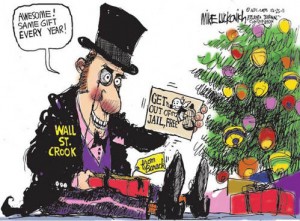 By Greg Hunter's USAWatchdog.com 
Nothing is more emblematic of the mainstream media (MSM) than NBC's "Meet the Press."  I wonder if it should be renamed "Meet the Corporate Mainstream Press" because that is exactly what it was on Sunday.  Before the first vote was cast, Sunday's panel anointed Mitt Romney as the Republican candidate to face Barack Obama this fall.  I really wonder why we have caucuses or primaries at all.  We should all just watch TV and let shows like "Meet the Press" tell us what's good for us.  The word pompous comes to mind when I see them in action, and last night, Ron Paul showed them how little they know what America really wants by finishing just a few percentage points behing the Romney.
The MSM doesn't tell reporters or guests what to say; they just pick the people who will say what they want.  I heard only one relatively flattering thing about front runner Ron Paul during the entire discussion.  Kathie Obradovich from the Des Moines Register said some of the caucus goers were "flocking" to Ron Paul because they were "desperate for real change," and Congressman Paul was "completely different."  Other than that, every other word about Paul was negative.  Why?  Let's face it, the left and right do not want real change and will try to taint or destroy anyone who brings it.  They want the system of secret banker bailouts and Fed deals that rescue companies like General Electric from financial ruin which is part owner of NBC.  (During the financial meltdown of 2008, GE was the sole owner of NBC and now has only a 49% share of the network.)  They do not want prosecutions of Wall Street bankers for causing the financial meltdown with "liar loans" and "toxic" mortgage backed securities.  Republicans and Democrats want what they have now and are just taking turns ripping off the country.  The corporate owned MSM is just happy to take campain advertising money and are happy to cover the fake fighting.
You could not have gotten a more Romney biased panel on "Meet the Press" if you would have gone to Mitt's campaign headquarters.  Mike Murphy, GOP strategist, said Congressman Paul, ". . . would be the surprise disappointing finish."  Mark Halperin of Time Magazine said he saw "two scenarios for Romney and they were "great" and "good."  Andrea Mitchel of NBC said Paul "really hurt himself on foreign policy."  To be fair, it is not just NBC doing a hatchet job on Congressman Paul, other networks have been less than objective.  Yesterday on FOX, Democratic strategist James Carville opined that Romney was the only Republican that "has a chance of winning nationally." 
I think the Democrats and President Obama would like nothing more than to run against the man who thinks "corporations are people too."  Mitt Romney would be predictable and would not go after the real issues that are holding America back.  The main issue is the fraud and rip-offs in the financial system.  There will be no recovery and little job creation unless and until the banks and Wall Street are no longer able to rig the system so they always win.  There should also be some prosecutions, but I digress.  Romney, who couldn't get much more than 25% of the Iowa Republican vote, will be very beatable for Mr. Obama.  Both are the picks of Super PAC corporations.  Santorum would just be the Republican replacement for Romney if he can hold up after Iowa.
Paul, on the other hand, would be unpredictable and difficult to corner.  The Congressman also has something all other Republicans envy and that is motivated, young supporters who want real change.  President Obama can no longer campaign on the change slogan.  He got in and nothing really changed.
If you would have said Ron Paul would be a close third in Iowa a year ago, I am sure you would have been laughed out of the room.  That is the same thing you could have said about Barack Obama in January of 2008.  Hillary Clinton was so strong, they were doing skits on "Saturday Night Live" belittling the other candidates in the Democratic field. We all know how that turned out.  I am not stumping for Congressman Paul.  I just want accurate reporting, and accurate reporting is usually fair reporting.   I don't see much objectivity from most of the MSM, and it is not asking too much for facts without spin or distortion.