Mortgage Settlement Will Plunge Real Estate Values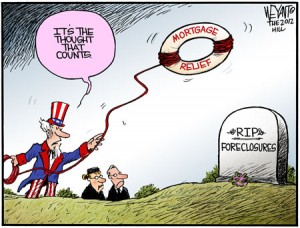 By Greg Hunter's USAWatchdog.com 
It is official.  State and federal governments have condoned forgery, perjury and fraud in what's been called the "robo-signing" foreclosure debacle.  Last week, the five biggest banks in America signed on to a $26 billion deal that, basically, lets them off with a slap on the wrist for fraudulently foreclosing on homes in the last few years.  I am not going to go on and on about how unfair and unjust this deal was or how the rule of law has been thrown down the stairs.  I am going to focus on the fallout of this morally corrupt deal.
There is $700 billion in negative home equity with nearly half (11 million) of all houses underwater.  Meaning, more is owed on the mortgage than the home is worth.  This settlement may help a few folks, but it is a drop in an ocean of debt.  Now that the deal is done, look for the pace of foreclosures to pick up speed and home values to take another cliff dive.  If you thought the negative equity problem was at the bottom–forget it.  The plunge in real estate prices is far from over, and it's not going to turn positive anytime soon.  Consider the latest Case-Shiller report where year-over-year declines in home values averaged 3.7% nationwide.  This is despite 30-year mortgage rates at or below 4% and a big slowdown in foreclosures because federal and state governments were negotiating a deal for the past 16 months.
Banks are desperate for cash, and they are going to unlock all they can as fast as they can.  After all, people can't live in a house forever without paying.  The banks are not going to enter a new age of morality when they just got a "get out of jail free" card from prosecutors.  Rolling Stone's Matt Taibbi wrote last week, "The only acceptable foreclosure deal had to bring about a complete end to robosigning and the other similar corrupt practices that grew up around it (like for instance gutter service, the practice of process servers simply signing affidavits saying they delivered summonses, instead of really doing it).  But this deal not only doesn't end robosigning, it officially makes getting caught for it inexpensive."  (Click here for the complete Taibbi post.)
The Obama administration said, last week, this deal will be good for "struggling homeowners."  It will be good if you are a speculator looking for a deal, but it won't help out homeowners who have equity and pay their mortgage on time.  Last week, a Bloomberg report said, "A surge of home seizures may drive down values, at least for a while, in a fragile market. The number of new foreclosure filings fell 34 percent last year, according to RealtyTrac, resulting in a backlog that now may flood the market with low- cost properties. About 1 million foreclosures will be completed this year, up 25 percent from 2011, according to the firm."  (Click here for the complete Bloomberg story.) 
The new flood of foreclosures will depress prices, and more and more people will figure out they are sunk and will stop paying for a submerging investment.  I say the fall will not be temporary.  Declining prices will be the prevailing trend, especially when interest rates begin to rise.  Mortgage interest rates cannot remain at these cut-rate levels forever and won't.  The Huffington Post reported last week, ". . . Amherst Securities Laurie Goodman noted that with our current housing trajectory, we can expect up to 10 million more defaulted mortgages over the next decade. These foreclosures impacts housing values, reduce consumer purchases, and costs municipalities money."  (Click here for the complete Huffington Post article.)    
Housing prices are headed down.  Most people cannot fathom year after year of declining prices. But, that's what's coming, and I see nothing that will stop the slide.  Not only does this deal hammer home prices but pension funds and mutual funds that invested in mortgage-backed securities.  Small investors and homeowners everywhere are stuck on the same bus staring down a steep hill, and this so-called "robo-signing" settlement just cut the brake lines.