New Recession Starts After Mid-Year-John Williams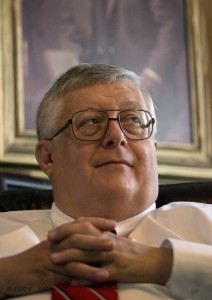 By Greg Hunter's USAWatchdog.com
Economist John Williams correctly predicted the first quarter GDP in 2015 would turn negative.  What is his second quarter prediction for GDP?  Williams says, "I am looking for an outright contraction in the second quarter as well.  Two back to back negative quarters in the GDP (Gross Domestic Product) would be counted as a recession.  GDP is very heavily bloated and inflated by all sorts of gimmicks. . . . In effect, we are seeing a weakening of the economy now that is dragging down these bloated numbers.  I contend we never recovered from the collapse in 2008 and 2009.  We have just been bottom bouncing. . . . It is beginning to turn down again. . . . Expectations for the second quarter will begin to sink."
To back up Williams' claim of a "sinking" economy, look no further than the Dow Transports which show a clear downtrend.  There are many more signs of trouble as Williams contends, ". . . The better quality numbers show the economy is sinking.  For example, industrial production, published by the Federal Reserve, has contracted dramatically in the first quarter, and it is a virtual certainty to contract in the second quarter. . . . Year-to year growth of industrial production is at a level that you only see going into recession.  New orders of durable goods, that's a leading indicator to industrial production.  It contracted in the fourth quarter, it contracted in the first quarter, and it is basically in the second quarter. . . . I think it will be down when all the numbers are in, and that will indicate a further contraction in the third quarter of this year.  Now, where you have has stronger numbers in the last month or so is with the housing numbers.  Home sales and housing starts, but those numbers are highly volatile and they are extremely unstable. . . . You look at those numbers, you are down anywhere between 30%-60% from where you were before the (2008-2009) recession. . . . Those numbers are going to start to turn down."
So, what does Williams make of the strength of the dollar in the last year?  He thinks the markets were anticipating the Fed raising interest rates because of the so-called "recovery."  Of course, the economy is not improving, and Williams thinks when the Fed tries to pump the economy back up, the dollar will dive.  Williams explains, "I was looking for a hyperinflation in 2014.  What I did not expect and what I have missed is the big rally in the dollar. . . . The economy was never improving.  Now, it's not only not improving, but it is begging to turn down again.  That's the importance of quarter to quarter contraction.  When you get that, you get official recognition that the economy is falling, and it is not recovering.  So, as the expectations wane on the Fed tightening, you will start to see dollar selling.  I think you are going to see a panic decline in the dollar at some point, massive selling of the dollar, not only that, it will take it down to levels of a year ago, but to historic lows.  As that happens, you will see a tremendous spike in oil prices which will start moving the consumer price index pick up. . . . You have an overhang in excesses of $12 trillion outside the United States.  A goodly portion of that will be repatriated to the United States into the US markets.  People will be dumping the dollar to get out of the dollar, and the Fed is going to have to be monetizing all sorts of things. . . . What's out of whack right now against reality is the strength of the dollar.  We don't have a booming economy.  We don't have a Fed that is going to happily raise rates, although they would like to.  As the realization sinks in, the exchange rate of the dollar will start falling.  Then, you will actually have a panic, and once that has happened, you will see a sharp upturn in headline inflation, and that will evolve eventually into hyperinflation. . . . A dollar panic is reflective of the problems here."
Join Greg Hunter as he goes One-on-One with economist John Williams of Shadowstats.com.
(There is much more in the video interview.)

After the Interview:
John Williams has some free information on the home page of his website ShadowStats.com.  He also sells detailed research to billion dollar money managers and hedge funds.  If you would like to subscribe to his research, you can do so for $175 per year, or $89 for six months, by clicking here.