The 2.5% GDP Growth Spin Job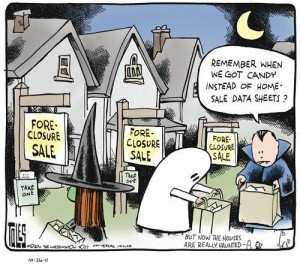 By Greg Hunter's USAWatchdog.com 
Last week, the government announced the economy (gross domestic product, GDP) grew at a 2.5% rate.  The mainstream media (MSM) hailed this as some significant turnaround.  Businessweek.com reported, "Buoyed by a resurgent consumer and strong business investment, the economy expanded at an annual rate of 2.5 percent in the July-September quarter, the government said Thursday.  The expansion, the strongest quarterly growth in a year, came as a relief after anemic growth in the first half of the year and weeks of wild stock market shifts."  (Click here for the complete Businessweek.com story.)  Where did this so-called growth come from?  My bet is most of it came via money printing by the Fed, credit card use and inflation that is mistakenly reported as growth.
Economist John Williams of Shadowstats.com says the 2.5% GDP growth rate story is a sham.  In his latest report, he says the economy is not growing but "sinking anew."  Williams criticized the government numbers the day they came out last week by saying, ". . .the widely-followed gross domestic product (GDP) nonetheless remains the most-heavily-biased, the most-heavily-guessed-at, the most-heavily politicized and the most-worthless major indicator of domestic business activity.  Today's numbers out of the Bureau of Economic Analysis are outright nonsense.  Consider that latest numbers showed that the level of inflation-adjusted third-quarter 2011 GDP broke above the pre-recession high of fourth-quarter 2007: a full recovery.  That is absurd.  No other major economic indicator, including payrolls, real (inflation-adjusted) retail sales, industrial production, trade deficit or housing starts is showing that." (Click here to go to the Shadowstats.com home page.) 
There are many other signs the economy is not getting better.  The latest data from both Consumer Sentiment and Consumer Confidence surveys have recently plunged right along with home prices.  Business week.com reported last week, "The New York-based Conference Board's household sentiment index slumped to 39.8 in October, the lowest level since March 2009 and less than the most pessimistic forecast in a Bloomberg News survey, the group's data showed today. Property values in 20 cities were little changed in August from the prior month and down 3.8 percent from 2010, according to S&P/Case-Shiller.  "The outlook continues to deteriorate," said Yelena Shulyatyeva, a U.S. economist at BNP Paribas in New York. "It's not good for confidence when people see their main asset, their homes, decline in value. Our best-case scenario is we'll muddle through."  (Click here to read the complete article.)
To top it off, a nationwide survey of bankers last month revealed that most expect home prices will not recover until the year 2020!  CNBC covered the story and said, "The survey conducted by the Professional Risk Managers' International Association for FICO, found that 49 percent of respondents do not expect housing prices to rise back to 2007 levels for another nine years. Only 21 percent of respondents said they would.  The findings, which authors called "a decidedly pessimistic outlook," are a sharp reversal from cautious optimism the survey respondents expressed late last year and in early 2011.  In addition, 73 percent of surveyed bankers say they expect mortgage defaults to remain elevated for at least another five years. And 46 percent believe mortgage delinquencies will increase over the next six months." (Click here for the complete CNBC story.)  So, don't hold your breath for the so-called recovery story becoming reality anytime soon.
Finally, I guest hosted for a local radio show in my area last Friday.  I interviewed a Wall Street Journal reporter stationed in Europe about the ongoing sovereign debt crisis.  A deal was supposedly reached last week where the banks will take a 50% loss on Greek bonds, and the bailout fund will basically back the rest of the sour debt. When I tried to pin him down on the fact that there was not enough money to bail out all the PIIGS (Portugal, Ireland, Italy, Greece and Spain), he got quiet and fumbled around for an answer.  All he could say is that it was a "difficult situation" and went on to say something like the EU leaders are hoping to stabilize the situation and "grow" their way out of the mess.  Then I asked him, what if the rest of the PIIGS want the same deal Greece got?  (The combined amount owed by all the PIIGS is approaching $4 trillion in sour sovereign debt.)  The WSJ reporter admitted there wasn't enough money to "bailout everyone."  To that I replied, ". . . there are going to be some big bank failures and that story is not getting out to the public."  His silence was deafening.
Every time the economy gets into trouble, we are told "don't worry we'll grow our way out."  I think someday we will "grow" our way out of the economic mess we are in but not before a very big fall.