The People Fiddle as the Country Burns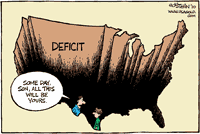 By Greg Hunter's USAWatchdog.com   
Thank goodness the Casey Anthony case is over!  The jury thinks she is not guilty of murder.  I don't know if they got right or wrong, but I do know many dollars and much air time was devoted to a story that will have zero effect on the lives of 99.999% of Americans.  I think the discovery of a walking, talking Martian would have gotten about the same attention.  I guess this stuff sells newspapers and gets TV ratings but is sure not what U.S. citizens should be focused on.  Maybe that's the point.  Are stories like Casey Anthony just our version of a Roman Circus?  Are the masses being kept preoccupied with events that have no bearing on their lives while the country burns in a cloud of debt?  I think so.
Most people have no idea of the perilous position the U.S. is in.   One wrong move by our government or even a government the size of Greece, Portugal, Spain or Italy, and there could be a daisy chain of debt explosions around the globe.  The people are in the dark, and I blame the mainstream media (MSM.)  A story that should have people really terrified is the battle going on in Washington D.C. over raising the debt ceiling some $2.4 trillion dollars.  If the issue is not settled by early August, the U.S. could have the mother of all debt defaults.  The Democrats and Republicans cannot agree on a package that contains both tax increases and budget cuts.  President Obama has called for a "balanced approach."  Bloomberg reported yesterday, "The Obama administration and congressional leaders are working to complete a deal on a long-term budget reduction package by July 22 as part of a plan to raise the $14.3 trillion debt limit. The Treasury Department has said that its borrowing authority expires Aug. 2 and could result in a first-ever U.S. default on its obligations.  Obama's comments came as Democrats were intensifying a showdown with Republicans over whether tax increases should be part of a deficit-cutting deal before the Aug. 2 deadline."  (Click here for the complete Bloomberg report.) 
Everyone should be watching this debt ceiling negotiation because, no matter the outcome, it will affect the lives of 99.999% of Americans and many people around the globe.  If a deal is not reached, catastrophic consequences would follow.  In his latest report, economist John Williams from Shadowstats.com said, "Such a default would be a serious mistake, and it most likely will be avoided as political games push the limits of brinksmanship.  An outright default likely would trigger massive dumping of the U.S. dollar, and it would accelerate movement to much higher U.S. inflation and, ultimately, to hyperinflation."  According to Williams, there are $12 trillion in liquid dollar assets held outside the U.S.  That is where the hyperinflation would come from.
Paul Farrell from MarketWatch.com takes the opposite end of the argument and says the U.S. should not raise the debt ceiling because it will make matters worse in the future.  In a post he wrote yesterday, he said, "No, do not raise the debt-ceiling. You heard me: Block the debt ceiling vote. Don't raise it. America's out-of-control. A debt addict. Time to detox. Deal with the collateral damage before it's too late."   Farrell gives 7 reasons why he thinks we should force a depression right now and not wait for an even bigger one to happen later.  (Click here to read the complete MarketWatch.com report.) 
Either way, America is heading for a real disaster, and most people are clueless of how fast the economy could fall off a cliff.  And when I say disaster, I mean riots, crime, violence, hunger, hyperinflation and a complete loss of wealth that will vanish seemingly overnight.  This is a fall that will forever change the country.  This is big, very big.  Meanwhile, the mainstream media (MSM) is obsessed with wall-to-wall coverage of stories like Casey Anthony.  I guess the John Edwards saga will be the next distraction as we head for the abyss.  When we crash, and I guarantee it will happen, the MSM will sit around and say the exact same thing it said after the 2008 meltdown:  "Nobody saw that coming."  Let the games continue.