The Smell of Money Harvesting is in the Air!!!
By Greg Hunter's USAWatchdog.com
There are so many reasons why this stock market should be hitting a wall.  Just a few are: high unemployment, plummeting tax revenues, major real estate declines, defaults in both residential and commercial properties, hundreds of banks are expected to fail this year and next, cities and states going broke and wars fought on 2 fronts. There is no end or resolution in sight for any of these problems.
Yet, the stock market has "climbed a wall of worry" to produce one of the biggest bear market rallies in history.  The DOW is up about 50%  in just 5 months.  The market by most standards is not cheap.  So is everybody crazy?  Well, apparently corporate insiders are not.  They were dumping their stocks at a rate of 30 to 1 during the month of August according to TrimTabs Investment Research.  That means for every insider buying shares of stock, there were 30 insiders selling shares of stock!  According to TrimTabs, that is a record.  Take a deep breath…that is the smell of the money harvesting Wall Street machine revving it's engine!  Nowhere is the buy low and sell high mentality more apparent than in this chart of the S & P 500 below :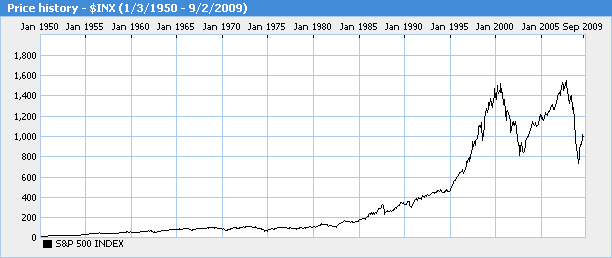 The S&P 500 is at about the same level as it was in 1997. And consider this, people have been stuffing around 5 to 10 percent a year into their pre-tax  retirement accounts (which amounts to hundreds of billions of dollars.)   So shouldn't the market be much higher?    Where did all that cash go?   The money was " harvested" by insiders, hedge funds and big banks!  These folks sold high, took your contributions and left you holding the losses.  All the while, "the experts" told you to be a "long term investor" and be "diversified." What happened in the last 12 years?  Isn't that enough time to make some money?   Isn't a group of 500 top stocks diversified?  Well look at the picture above and any 3rd grader can see THAT DIDN'T WORK!!! You could have beaten S&P 500 returns by a mile by just putting your money in an FDIC insured bank account during the last 12 years!!  On top of that, you would not have paid a  management fee (1 percent on average) which would have saved you another 12 percent!   What a rip-off!!!
Also, consider the fact there are a whole lot of companies that are no longer in the S&P 500 because they have either gone bankrupt or the share price has evaporated.   That means the "investing" picture for the little guy is actually a whole lot worse than the S&P shows.  Let's name  just a few companies in the past 11 years that delivered a big loss to anyone holding them:   Lehman,  Bear Stearns, Fannie, Freddie,  AIG, GM, Chrysler, Enron, WorldCom, Adelphia, Wachovia and WaMu.  That is only a few I can name off the top of my head.   I think you get the point.
Fast forward to today and  reconsider the 50% increase in the market in just 5 short months.  Still, most people are down at least 30 percent from the high.  If you are a trader or insider, you love this market!   If you are a "buy an hold"  investor, get ready to sit on another big loss in the old 401k or sell some stock and you too can harvest some money just like the big guys!