Weekly News Wrap-Up 11.25.11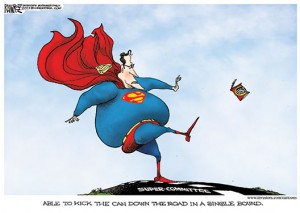 By Greg Hunter's USAWatchdog.com
Happy Black Friday!  I hope you all had a great Thanksgiving! The Occupy Wall Street protesters are trying to derail the busiest shopping day of the year by telling people not to shop.  I do not understand why they would try to hurt struggling retailers.  I think this is well within their rights under the first Amendment but a public relations disaster. Meanwhile, the Tea Party is telling folks to "buycott" and go out and shop to help the economy.
The Super Committee proved it was a super scam by both parties to push off important budget deficit decisions until after the November elections.  Long term unemployed will be cut off in January if Congress does not act in December.  It still comes down to a cut and tax log jam.  Don't think all the ratings agencies will give the U.S. a free pass.  Look for the Chinese and S&P to cut U.S. credit ratings in the next few weeks.  The Middle East is hot and getting hotter.  Iran says it has arrested 12 CIA agents.  Iran says the agents were working with the Israelis to disrupt Iran's nuclear program.  The agents might be put to death according to published reports.
Syria is on the verge of a civil war.  It is between the Shiite minority and the Sunni majority, but it is really much more than that.  Syria is an ally to Iran, and with the U.S. leaving Iraq, it is reported that many want a change of government to contain Iran.  All these stories and more from Greg Hunter in the Weekly News Wrap-Up.