Weekly News Wrap-Up 9.5.14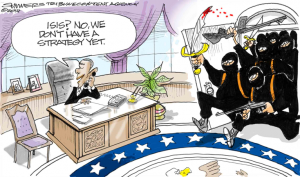 By Greg Hunter's USAWatchdog.com 
Once again, the Ukraine crisis is the top story.  There is a cease-fire between the pro-Russian separatists and Ukraine.  I hope this is a legitimate effort and not a tactic to stall for time until NATO can send in more troops.  I hope this is not a way to say well, we tried to talk to Russia, and it did not work out, and now we have an excuse for wider war.  Anyone who thinks Russia is not heavily involved is dreaming.  After all, it is Vladimir Putin laying out a "seven point plan" to end hostilities in eastern Ukraine.  A few weeks ago, there was talk of a genocide that might happen at the hands of Ukrainian troops.  Then, the tide of the conflict changed dramatically; and, of course, Russia had a hand in that tide change.  It may not have been a WWII invasion, but Russia is in there deep, and this is what you would expect.  This crisis in Ukraine has profound national security issues for Russia.  I keep asking the question: What did the West think Russia was going to do after the coup during the Winter Olympics in Sochi?  Do they want war?  Now, we find out that NATO is planning war games later this month in Ukraine, and the U.S. and EU are planning more sanctions against Russia.  France has now suspended the delivery of two warships it was building for Russia.  I can't see how the new sanctions are going to help an already hurting EU economy.  Also, President Obama is strongly suggesting allowing Ukraine into NATO.  France and Germany say NO to that idea because it will make matters worse and that might spark a real WWII invasion by Russia.  This is all against a backdrop of a now official failing EU economy.  This is the kind of crisis that could strain NATO to the point of it dissolving.  None of what is going on is going to help anyone's economy.
The other big story out there is the Islamic State that is now the size of the UK in between Syria and western Iraq.  The President is all over the map on this issue.  Last week, he said he did not have a strategy, and this week, he says he wants to "degrade and destroy" the Islamic State. Obama also said he wanted to "manage" this group that cuts the heads off of people while shooting video of the horrible acts.  The President did send another 350 solders to Iraq to protect the embassy and our interest there.  Since the beginning of the Syrian civil war, I have been reporting that the U.S. was arming the rebels that were in part al-Qaeda.  There is no arming the moderate Muslims.  The U.S. played a role in arming and creating ISIS, or the Islamic state.  The President stood by and did nothing for months even as major Middle East cities fell to ISIS.  This is too stupid to be stupid.  It looks as if the President wanted ISIS to grow.  How in the world are these terrorists allowed to make millions everyday selling oil?  Shouldn't we sanction these weasels?  Why can't we target these oil facilities?  They need to ship by pipeline, truck or ships. So, why not bomb them all and cut off their money?   Why do we let these terrorists fund themselves with stolen oil while riding around on stolen U.S. equipment?  This is too stupid to be stupid.
Meanwhile, there are all sorts of warnings of a terror attack here in the U.S., and who does the Justice Department go after?  The Ferguson Police Department.  Let me get this straight. Attorney General Eric Holder thinks the Ferguson Police are a bigger threat than Islamic terrorists.  Texas Governor Rick Perry says they are already inside the U.S., and many people agree with him.  We have the 9/11 anniversary coming up, and terrorists just made off with almost a dozen jet aircraft out of Libya.  The Justice Department is investigating the Ferguson Police?  This just might be too stupid to be stupid, as well.
Finally, there was news that some celebrity naked photos in a cloud somewhere were hacked.  When I first heard this, I jokingly thought to myself, I wonder if the FBI is going to get on this.  I mean, after all, the FBI has not made a single case against any top banker, even though they have admitted to laundering money for terrorists and helping Bernie Madoff, among many other admitted criminal acts.  Zero criminal charges have been brought against top bankers who have clearly committed trillions of dollars in fraud and crime.  Low and behold, the FBI is investigating nude celebrity photos while naked fraud is going unprosecuted and unpunished by the bankers.
Join Greg Hunter as he analyzes these stories and more in the Weekly News Wrap-Up.