Why Does Mainstream Media Disrespect Ron Paul?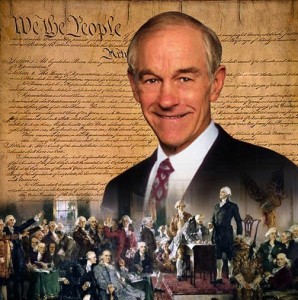 By Greg Hunter's USAWatchdog.com 
Watching the Sunday talk shows and looking at the reporting from this weekend's Republican  straw poll, you would not think that Congressman Ron Paul even participated in the event.  Paul came in a very close second to Representative Michele Bachmann in a field of Presidential Candidates.  Bachmann received 4,823 votes; Paul received 4,671 votes, which represents a margin of just 152 votes.  To me, it appears to be a statistical dead heat, especially when you consider the next closest competitor, Governor Tim Pawlenty, received only 2,293 votes.  Pawlenty's distant third place finish effectively blew him out of the race.
On "FOX News Sunday," host Chris Wallace ignored the virtual tie in the straw poll and said, "There's a top tier now of Bachmann and Perry and Romney, and we haven't mentioned, and we should, Rick Santorum who really did surprisingly well for the amount of money and resources he had."  To that I say "WHAT!?"  Santorum came in fourth with only 1,657 votes, about 1/3 of what Paul received.  Santorum came in behind a guy that dropped out because he didn't get enough votes to be a viable Republican candidate, and Wallace mentions Santorum and not Paul who was in a virtual tie with the winner?  Chris Wallace is not an amateur; he left out Congressman Paul on purpose.  Why, I do not know, but this is too stupid to be stupid.
Maybe Wallace does not like Ron Paul's stance on the Federal Reserve.  It was revealed recently in a Government Accounting Office report (inspired by Senator Bernie Sanders) that the Fed spent $16 trillion bailing out the world.  According to Congressman Paul, about a third of the money went to foreign banks.  Do you think we could create some jobs by loaning some of that money to private business in America?  Where is the Republican field on this issue?  Is the field silent on this monster rip-off because the bankers fund both parties?
I keep hearing the talking point by old guard Republicans and mainstream media (MSM) that Ron Paul is "unelectable."  I never hear any facts or metrics to back that up.  So, to me, that is just code for not liking his message, or not liking him as a candidate.  There were a few other people that were "unelectable" in the beginning of their campaigns.  Two that come to mind are Jimmy Carter and Barack Obama.  You may or may not like them as Presidents, but both were "unelectable" early on, and we all know how that worked out.
My hat goes off to Roger Simon from Politico who basically said the media was biased against Congressman Paul.  Saturday on CNN, Simon had the guts to point out that Paul lost by less than 1% and yet is being ignored by the MSM.  Check it out in the video below:

Even the publication Simon works for, Politico.com, had a headline posted online that read "Michele Bachmann wins Ames Straw Poll, Tim Pawlenty gets third."  Please note that there was no mention of Congressman Paul, who came in second.  You can see this at the end of the video above.  At 7:02 pm, Politico.com changed the headline to "Michele Bachmann wins Ames Straw Poll" and only mentioned Paul a few times in the story, mostly at the very end.  (Click here for the complete  Politico story.)
A more accurate headline would have read "Michele Bachmann Wins GOP Straw Poll over Ron Paul by less than 1%."  CNN was the only major MSM outlet to report the story in a similar headline when I Googled it.  However, their story downplayed Paul's near victory by saying, "But these days, political observers and members of the media take his straw poll wins for granted. And these victories have yet to translate to larger ones for the now three-time presidential candidate — who hasn't broken through yet in Republican elections nationally." (Click here for the complete CNN story.)
The mainstream media has no business picking winners in a campaign.  Their job is to report the objective facts and let the voters decide.  America does not need media hacks passing judgment on who is "unelectable."  Spinning stories by ignoring one candidate to give an advantage to other candidates is not news, it is propaganda.