More on the Dollar
On July 19, 2010
In Media
17 Comments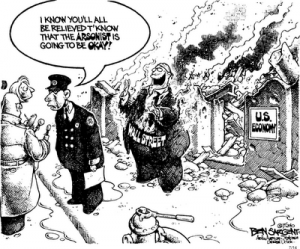 By Greg Hunter's USAWatchdog.com 
I wanted to do a little more on the coming plight of the U.S. dollar.  I received this comment from a reader named Billhopen who wrote, "Inflation???  you go to lengths quoting Karl Denninger (Market Ticker) who will tell you its is massive default, delevering, etc that will lead to DEFLATION….Your thesis is lacking on how we get an inflated currency from or situation, and certainly you can't quote Karl to support that theory." 
Billhopen does have a point about Mr. Denninger.  Denninger lays out a case for deflation, but at the same time, he also makes a case for how bad things will get.  That is precisely why I used a quote from him.  When things get bad, and I mean desperate, what do you think will happen to the dollar on the open market?  One of my readers named JJ makes this point by saying, "Billhopen . . . doesn't understand where the inflation will come from. Fiat currencies are bought and sold on the open market. Only the demand for a currency sets its value. If you don't understand this point then you don't understand the coming storm. Billhopen, do you think the demand for Whale oil increased or declined with better alternatives?"  (You can read more from JJ in the comment section of "Inflation Nation.")  The alternative to the dollar might be the SDR, or Special Drawing Rights.  I wrote about this in a post called, "Another Sign on the Road to a Devalued Dollar."   The financial world has been talking about replacing the dollar as the reserve currency for a couple of years now. 
To give my "thesis" a little more clarity, I turn to economist John Williams of Shadowstats.com.  In his most recent report from last week, he summed up what will happen to the dollar by writing, "As reported today (July 16th) by the Bureau of Labor Statistics, consumer inflation appears to be contained. That should change quickly and sharply at such time as the U.S. dollar comes under heavy selling pressure, along with broad dumping of dollar-denominated paper assets. Not only will oil prices spike in response to the dollar weakness, but the Fed will find itself forced to become lender of last resort to the U.S. Treasury, with a resulting sharp jump in Fed monetization of Treasury debt and related money supply issues. Both the dollar weakness and monetization developments are of increasing probability within the next year, with the time-horizon beginning to come in. These developments should result in a rapid increase in consumer inflation, with the base then being set for a hyperinflation. . ."   
I don't know if anybody is watching this, but 6 more banks failed over the weekend.  The new total of insolvent banks taken over by the FDIC is now up to 96.  How many more will fail this year?  What will the effect of a seemingly never ending parade of failing U.S. banks have on the dollar?  How will the dollar hold up in the face of insolvent states such as California, New York and Illinois, to name a few?  (46 states have a budget hole that is $200 billion deep.)   What is coming is not what happened in the 70's or the 30's.  It will be far worse.  America will not be destroyed, but it will be very tough going and many will be wiped out.  Your best chance to be there for the rebuilding process that will surely come is to get fully prepared.  What is coming is not for the kids or grandkids–that is 80's and 90's talk. What is coming is for us, in the here and now.