CV19 Vax Lies – Greatest Trust Destroyer in Human History – Steve Kirsch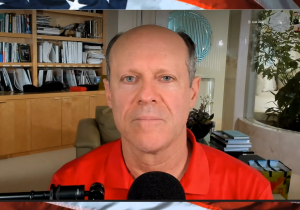 By Greg Hunter's USAWatchdog.com (Saturday Night Post)
Steve Kirsch was a Big Tech CEO who retired from his job after he was double vaxed for Covid 19.  Not long after, he learned the entire injection and Covid narrative did not match the science or the facts.  The vaccines, for example, were not safe and effective as he was led to believe.  Healthy people he knew were dropping dead after they were vaxed.  So, Kirsch who holds two degrees from MIT, started a quest to learn everything about CV19 and the so-called vaccines used to treat it.  In the process, he became a warrior for truth and posted his cutting-edge journalism and analysis that exposed huge Covid19 lies on his wildly popular Substack.com site.  Kirsch explains, "I actually look at the science to see if that backs up what the recommendations are, and every time, I am surprised to find out the actual science doesn't match what we are being told.  This is true for the vaccines, this is true for the masks, and for basically any of the interventions we have been told about.  The 'six feet rule,' even something as simple as that, you can't find a paper that says it's 6 feet as opposed to 7 feet, or 5 feet or whatever.  It's much more complicated than that."
Kirsch says, "Whenever I have an audience, I ask people, 'How many people in your household died from Covid?'  There will be one hand or two hands.  Then I ask, 'How many people do you know died from the Covid vaccine?'  The last time I asked that question, it was a 7 to 1 ratio.  7 times more people reported a death from the vaccines.  If they are wrong even by a factor of 10 . . . it is still a disaster beyond proportion. . . . I saw a tweet from a doctor saying how much longer are we going to pretend that these (vax death) incidents are just bad luck?  He is basically saying we know the vaccine is causing this, but we can't speak out because we will be fired and have our hospital privileges revoked.  We will have our licenses to practice medicine revoked.  This is why you are not seeing doctors who realize this speaking out.  They all have to remain silent."
Kirsch goes on to say, "This is the biggest catastrophe in American history.  Even a member of the EU parliament recently said this.  She said these vaccines are the biggest disaster ever."
The massive amount of victims of this vaccine fraud are waking up to the fact they have been poisoned and murdered.   Kirsch says, "They are not going to be happy.  I don't want to predict what they are going to do, but a lot of people are going to be extremely upset.  I think at minimum, they will not trust anything from the CDC, FDA and NIH ever again.  That's at a minimum, and they won't trust the mainstream media either.  They won't trust representations from Congress because most of the people in Congress are saying get your vaccine.  This will destroy trust in the mainstream media, Congress, in the mainstream medical community, in government agencies and medical science in general.  It will be the greatest trust destroyer in human history, these Covid vaccines.  This is not just in the U.S., this is worldwide.  When people figure out that they were told by their government to take a shot that was way more likely to kill them than to save them, people are going to be livid.  It won't just be a few people that will be livid, it will be a lot of people."
There is much more in the 1-hour and 10-minute interview.
Join Greg Hunter from USAWatchdog.com as he goes One on One with CV19 truth warrior Steve Kirsch.
(To Donate to USAWatchdog.com Click Here)
After the Interview:
You can find lots of free information and analysis on the Steve Kirsch Newsletter page like his latest post called "Will physicians EVER speak out?"
You can get even more cutting-edge CV19 news and analysis with a premium paid subscription.
Click here to support Kirsch's work and become a subscriber for only $5 a month.