George Soros Worried about Survival!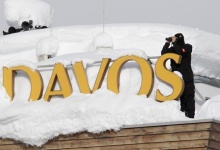 By Greg Hunter's USAWatchdog.com 
The World Economic Forum (January 25-29) in Davos, Switzerland, is probably the most important ever.  The world is closer to another financial meltdown that could crush the tenuous global economy.  Many experts have said the next meltdown will be bigger than 2008.  On top of the list of problems to tackle is the sovereign debt crisis and insolvent European banks.  Last year, Davos participants said the world needed $100 trillion to "support growth."  I wonder if that figure will increase this year.
Now, billionaire George Soros is not worried about a financial meltdown but just his "survival!"  He thinks things could get so out of hand that there could be great upheavals in societies around the planet.  He said he was worried about "danger . . .  and evil."  The Daily Beast reported yesterday, "Has the great short seller gone soft? Well, yes. Sitting in his 33rd-floor corner office high above Seventh Avenue in New York, preparing for his trip to Davos, he is more concerned with surviving than staying rich. "At times like these, survival is the most important thing," he says, peering through his owlish glasses and brushing wisps of gray hair off his forehead. He doesn't just mean it's time to protect your assets. He means it's time to stave off disaster. As he sees it, the world faces one of the most dangerous periods of modern history—a period of "evil." Europe is confronting a descent into chaos and conflict. In America he predicts riots on the streets that will lead to a brutal clampdown that will dramatically curtail civil liberties. The global economic system could even collapse altogether."   (Click here for the complete Daily Beast story on Soros.) 
2011 was a watershed year for scary quotes from world leaders, and 2012 is starting off with a bang.  If this is what people like George Soros says to the press, things must be getting pretty bad.  Please keep an eye on the 2012 Davos meeting.  I think world leaders are scared and have very few options.  Something wicked is coming, and Soros is tipping us all off.