Globalists Want War, Ukraine Lies & Propaganda, Economy Tanking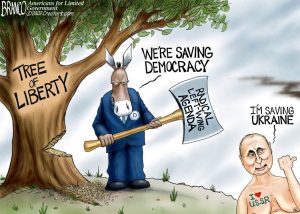 By Greg Hunter's USAWatchdog.com (WNW 519 3.11.22)
Even though Russia and Ukraine have been talking, zero agreement has been reached in stopping the three-week-old war between the two countries.  There is no good faith effort to end it, and it appears the Deep State globalists want this conflict to continue. The only conclusion you can come to is, ultimately, this leads to war, and that's what they want.  Be prepared for this conflict and escalating sanctions to continue for some time to come.  Maybe this is why Martin Armstrong sees a big war cycle coming in 2023.
It's been difficult reporting on Ukraine because of the lies and propaganda.  For the past few weeks, the Biden/Obama Administration has been denying there are U.S. bio-weapons labs in Ukraine.  They called it conspiracy theories and "fake news."  They should have told that to State Department Under Secretary Victoria Nuland because in Senate testimony under oath, she basically confirmed the U.S. did indeed have bio-weapons labs in Ukraine.  Nuland said she was worried about the labs falling into the hands of the Russians, and she was not talking about the Russians finding out about a cure for cancer.  This breaks a 1992 agreement by the U.S. and Russia on bio-weapons.  Another example of propaganda in Ukraine is many of the videos you are seeing contain old video from other battles and even video game footage that simulate war.  A big percentage are fake or total misrepresentations of what is going on in Ukraine.  It's all used to sway public opinion against Russia and for NATO.  Even globalist George Soros is shilling for Ukraine, and that alone is a huge red flag.
As the sanctions on Russia increase, the economy continues to tank.  The big issue is supply of goods and commodities causing spiking inflation.  Just look at wheat prices.  Last fall, when winter wheat was planted, the grain was around $5.50 per bushel.  Today, thanks to sanctions on Russia, it is averaging more than $11.00 per bushel.  Expect the free bread at Outback and every other restaurant to not be so free in the future.  All indications are the tanking of the global economy will keep going because the Russia/Ukraine conflict has no end in sight. and that's what the Deep State globalists want.
Join Greg Hunter of USAWatchdog.com as he talks about these stories and more in the Weekly News Wrap-Up for 3.11.22.
(To Donate to USAWatchdog.com Click Here.)
After the Wrap-Up:
Precious metals and financial expert David Morgan of "The Morgan Report" will be the guest for the Saturday Night Post.  He thinks the up-trend for metals is here to stay, and there are many geopolitical reasons why.
Rob Kirby Update:
Doctors have taken Rob off the respirator, and he is breathing on his own.  I think doctors are going to slowly bring Rob out of his medically induced coma this weekend!!!