U.S. Economy-Plunge, Stagnation & Turning Down Anew-John Williams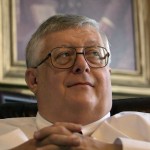 By Greg Hunter's USAWatchdog.com
Economist John Williams says to forget about the so-called recovery.  What's coming next is recession or worse.  Williams contends, "The fact that we saw a -2.9% contraction in the first quarter, in official reporting . . . you know the economy is in real bad shape.  It's continued to the second quarter, and that will gain recognition as all the data gets published."  Back in 2013, Williams predicted that it would be "game over" in 2014.  What are the statistics showing him now?  Williams says, "They are showing the economy continues to weaken, and it never recovered.  A second quarter contraction here would most assuredly be recognized as a new recession, and I contend we never got out of the old recession.  We had plunge, stagnation and, now, we are turning down anew." 
On recent news, the Federal Reserve ending the bond buying program in October. Williams says, "I expect the Fed will always be there to buy it.   I looked at their announcement, and the October end is preconditioned on the economy continuing to show positive economic results as the Fed expects.  That's not going to happen.  The easings (money printing) that we've seen by the Fed have been aimed at propping up the banks by providing liquidity for the banking system.  It's not stimulating the economy.  Former Fed Chairman Bernanke admitted the Fed was at a point where there was very little they could do to stimulate the economy.  The problem is keeping the banking system afloat.  A weaker than expected economy, and we are looking at something that is much weaker than expected, means the banking system is going to be under further stress.  It hasn't recovered since the crisis of the panic of 2008.  So, the Fed will want to continue to provide liquidity.  The problem is that is not politically popular.  So, they have been using the bad economy to bail out the banking system, and that is going to continue.  I'll be surprised if the 'tapering' actually comes to an end in October."
So what happens when the second quarter economy comes in weaker than we are all being told?  Williams paints a grim picture and says, "A weaker than expected economy means the budget deficit is going to be worse than expected.  A weaker than expected economy will also tend to trigger selling pressure against the dollar.  I am still looking for a massive decline in the U.S. dollar.  A massive decline and a renewed recession can certainly be a trigger for that."
Williams goes on to explain, "There are a number of reasons for a dollar crash to happen such as questions about Fed policy, long term solvency questions in the United States, political stability and the popularity rating of the President.  When that's low, the dollar usually comes under selling pressure.  You put all these factors together and the rest of the world is waiting for the U.S. to get its act together, and it is clear now we are not going to do so. . . . The rest of the world is going to be in position to basically get out of the dollar, and once people start moving, you will have a flood of people start moving."  Please keep in mind, Williams says, there are more than $16 trillion liquid dollar assets held outside of the United States.  If everybody starts dumping their dollars, Williams says, "That could trigger very high inflation here.  You will see, for example, higher oil prices.  You will also see mounting pressure, that is already there, to have the dollar removed as the world reserve currency, and that would accelerate domestic inflation.  I am still looking for a near term hyperinflation; that is dependent on a very heavy decline in the U.S. dollar."
How bad could things get on the inflation front?  According to Williams, measured against gold, the dollar could become virtually worthless.  Williams contends, "In a hyperinflation, which I am looking to evolve here, gold could be $100,000 per ounce or a million dollars per ounce.  All that reflects is purchasing power of the dollar assets you put into gold represent the purchasing power if you kept your asset in dollars.  Gold is a store of wealth.  I am not looking at this to make profits.  I am looking at this as a long term hedge against high inflation to maintain purchasing power for the terrible currency crisis ahead." 
Join Greg Hunter as he goes One-on-One with John Williams, founder of Shadowstats.com.
(There is much more in the video interview.)
After the Interview: 
There is free information for the public on Shadowstats.com.  Williams also offers detailed reports for $175 per year, and $89 for a six month subscription.  If you would like to subscribe to Shadowstats.com click here.