Weston Scientific Combats Superspreader Covid19 Variant – Weston Warren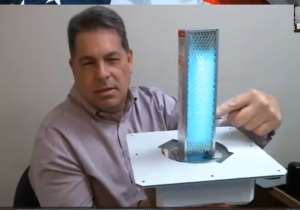 By Greg Hunter's USAWatchdog.com (Sponsored Post)
Scientist and inventor Weston Warren is briskly selling his germ killing and air purifying technology in the wake of global wildfires and a new CV19 variant.  It took nearly 20 years to perfect this air scrubbing technology, and it works to combat all airborne contaminants.  This includes the deadly spike proteins shed by "superspreaders" who took the CV19 bioweapon/vax.
Recent data says this new variant is coming from people who took the CV19 bioweapon vax and are now considered "superspreaders" of sickness.  This bipolar ionic air purification kills germs, viruses and mold.  Whether you are vaxed and shedding sickness or are unvaxed and being shed on by the vaxed, you need this tech for healthy clean air.  Warren explains, "These are invisible scrubbing bubbles . . . . All it takes is one, and if you puncture a hole in the surface membrane in anything bacteria or virus, it is neutralized or dead or whatever term you want to use.  This happens in a hundredth of a second.  That's how fast it is.  These plasma ion clusters will poke 50, 100 or more holes in bacteria or virus.  It's like a shotgun.  This is what we call a mechanical sterilization.  It's very effective because we are just sheering off the protein stems on the surface of the membrane, and when you sheer them off, it creates a tiny hole."
Warren says his cutting-edge technology also neutralizes harmful chemicals in smoke, it works on allergens, pollen, mold and mildew.  Warren says, "It is a multi-use technology.  It covers so many aspects so you have a much better indoor air quality and an indoor surface quality environment. . . . . The water vapors break down into Co2.  So, there is nothing toxic.  What we are doing is mimicking nature.  It's the design of Earth.  I attribute that to God, a divine source.  The design is from our Heavenly Father.  This is how nature cleans the atmosphere and surfaces.  It's done with thunderstorms.  There is also natural ion generation in waterfalls and ocean waves.  Ions are non-toxic to humans, plants or animals, but they are very effective scrubbing bubbles.  We are basically creating an indoor thunderstorm without the rain."
Warren has an announcement on how to upgrade your 1500 ion device to make it almost twice as powerful.  He talks about units to install in your heating and air-conditioning system for residential or commercial applications.  Warren also shows off his big wall mount unit that can deliver 7,000 square feet of bipolar ion cleaning.
There is much more in the 42-minute interview.
Join Greg Hunter as he goes One-on-One with Weston Warren, scientist and inventor of the "CarryiOn" air purifier and many other bipolar ion air purification products for 9.13.23
After the Interview: 
For more information on any of the products Weston Scientific sells, feel free to call the company by phone at 573-469-5013. 
Or go to WestonScientificLLC.com website by clicking here.