2019 Democrat Debate 7.30.19 – Greg Hunter Live Analysis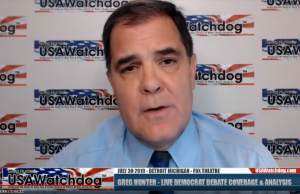 By Greg Hunter's USAWatchdog.com 
The second round of the Democrat debate took place in Detroit, Michigan, on Tuesday night.  The word "free" was used by the debaters at least 17 times. The debate seemed disjointed, and no one seems to have a coherent plan to help everyday Americans.   All presidential candidates uniformly touted the perceived racism in America, which, of course, is what many of them are running on.
In this live recorded debate, Greg Hunter breaks in to give his analysis of the candidates and what they are pitching to U.S. voters. Please ask yourself if there is there anything these candidates are saying that will make you go out and vote to put them in the White House?  Many on the YouTube livestream gave the answer to this question as a resounding NO.
(To Donate to USAWatchdog.com Click Here)
After the Debate:
Join Greg Hunter for the next round of the Democrat debates on Wednesday, July 31.