2020 – Beginning of the End – Bo Polny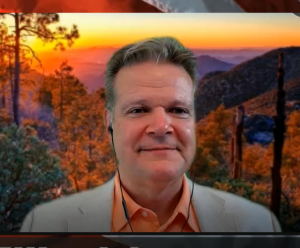 By Greg Hunter's USAWatchdog.com (Saturday Night Post) 
In early August on USAWatchdog.com, Biblical cycle expert and financial analyst Bo Polny predicted, "Do expect immense changes, and I do feel September 18th of this year is going to be pretty epic."  September 18th was the day Supreme Court Judge Ruth Bader Ginsberg (RBG) died.  Polny did not know what was going to happen on September18th, only that his cycle analysis was pointing to this being a key date for change.  It's safe to say that RBG's death has intensified the 2020 Presidential Election.  President Trump's pick to replace a pro-abortion judge with a pro-life judge, Amy Coney Barrett, marks a huge directional change for America.  Polny goes further on the death of RBG and says, "This has everything to do with life. . . . Yes, the 18th of September, as I said in the interview, I had no idea what was going to go down on September 18th, but, wow, talk about a big event. . . . That time point delineates what is going to proceed and move into the future because that Supreme Court Justice is going to change dramatically the events of the future.  You are going to see that the things that have been an abomination to God are going to soon be changed.  That directly relates to Roe v. Wade and abortion."
Polny's application of Biblical analysis and timing leads him to think, "Roe v. Wade ruling legalizing abortion is going to be dismantled starting around 2022."
Polny has put together an extensive road map of things coming to America and the world in what Polny calls "Biblical end times" and contends, "2020 is the beginning of the end."  Polny gives his analysis as related to the Book of Revelation and the "Seven Seals," some of which have already been broken.  As Polny has said in other interviews, "The world has changed forever."
Polny also predicts dire events coming in the years ahead as foretold in Revelations.  (Polny explains in detail in this interview.)
In the stock market, Polny sees, "The stock market going up through the Presidential Election, and then the charts show it turning down until July 2021 . . . to around 15,000 on the DOW."
Polny also sees the US dollar being "devalued over the next few years."  At some point, "We will see hyperinflation . . . . There will be food to buy, but it will be very expensive."   Polny warns it could be many times more expensive than it is today.
On gold and silver, Polny says, "The next leg up has already started for gold and silver.  The big move will come in October and November, and it will be a move that nobody has seen before.  In December, you will probably see a pullback."
Polny's simple advice is to, "Get physical gold and silver, and hold onto it as a core asset.  The trend is going up over the next few years.  Silver is going to blow away gold on a percentage basis."
Polny sees much death and destruction as the fourth horseman of Revelation arrives.  He says Jesus will protect those who believe in him.  All this is what must happen before Jesus returns, which is still several years away.
Polny also says, "I am a watchman, and I am warning people and telling them to get prepared. . . . God looks after us, and this is what we do.  All that matters is to get awake, and that means awake in Christ.  For the things that are coming upon the earth, if you haven't prepared, it's not going to go well for you."
Join Greg Hunter of USAWatchdog.com as he goes One-on-One with Biblical cycle and financial analyst Bo Polny, founder of Gold2020Forecast.com. 
(Program note:  What is written above is only a fraction of the content in this presentation.  This interview is more than one hour and eighteen minutes in length.)
(To Donate to USAWatchdog.com Click Here)
After the Interview: 
You can find free information on Gold2020Forecast.com.
To look at Polny's free PowerPoint presentation called "2020: The Beginning of the End" click here.
If you would like a reduced rate on a 2 week trial on the price moves of "Gold Turn Dates" click here. (Use discount code USA49)
If you would like a reduced rate on a 2 week trial on the price moves of "Bitcoin Index" click here. (Again, use discount code USA49)
If you are looking to buy physical gold and silver coins, check out our sponsor Discount Gold and Silver Trading.  Ask for Melody Cedarstrom, the owner, at 1-800-375-4188.