Bombshell Testimony of FBI Informant Implicates Many for Treason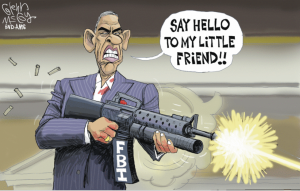 By Greg Hunter's USAWatchdog.com (WNW 321 2.9.18)
William Campbell was undercover for the FBI and CIA for six years gathering evidence of a grand Russian scheme to "dominate" the uranium industry. There are charges of espionage, bribery and extortion (just to name a name a few) coming from Russian agents trying to take control of U.S. uranium interests. Who knew? It's clear the FBI and CIA knew, along with the Department of Justice, the State Department and, most likely, the IRS because, after all, the Clinton Foundation was a global charity fraud. Campbell documents real Russian collusion and treason in the Obama Administration, which has connections right up to President Obama. This story is just getting started. I predict many will be charged with multiple crimes, including treason, before this is all finished. Sometime in March, the DOJ Inspector General, Michael Horowitz, will release his report on the FBI/DOJ handling of the Clinton private email server where Clinton was exonerated behind the scenes months before the FBI investigation was finished. Tsunamis of truth waves are coming, and then arrests and prosecutions.
Join Greg Hunter as he looks at the many aspects of this story and more in the Weekly News Wrap-Up.
(To Donate to USAWatchdog.com Click Here)
After the Wrap-Up:
Renowned financial and geopolitical cycle expert Charles Nenner will be the guest for the Early Sunday Release. He will give you his take on what is coming in 2018 and beyond, and it will be earth shaking.