Can Rick Perry Take the Heat?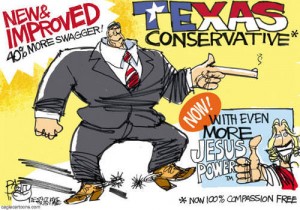 By Greg Hunter's USAWatchdog.com 
It is hard being a front runner, and just weeks after entering the race for President, Governor Rick Perry now knows it.  During the Republican Presidential debate on Monday night, Perry was hammered for signing an order in Texas four years ago requiring pre-teenage girls to be vaccinated against the human papillomavirus.  HPV is a sexually spread virus that can cause cervical cancer.  Minnesota Rep. Michele Bachmann hit Perry hard on the issue of forced vaccinations when she said, "To have innocent little 12-year-old girls be forced to have a government injection through an executive order is just flat out wrong."  The mainstream media may be all warm and fuzzy about forcing young girls to take an injection, but conservatives are not.  This was a stunning blow to Mr. Perry, and it will surely resonate with conservative women voters.  The Associated Press went on to report that Bachmann also noted, ". . .that the company that makes the vaccine, Merck & Co., employed Mike Toomey, Perry's former chief of staff, as a lobbyist in Texas, and that the drug company had donated to Perry's campaigns.  Renewing the attack Tuesday, Bachmann said on NBC's "Today" show that "it's very clear that crony capitalism could likely have been the cause" of Perry's executive order."  (Click here to read the complete AP story.)   The night before, Sarah Palin beat Bachmann to the punch on the "crony capitalism" criticism.  You can add her to the list of Republicans taking shots at Perry.
To Perry's credit, he stood his ground and reaffirmed his view that girls should be vaccinated against the virus.  It is also fair to point out, the Governor did give parents the right to opt-out, but I thought the damage was done when Perry said, "If I had it to do over again, I would have done it differently." 
Meanwhile, Perry is taking lots of heat from Mitt Romney on Social Security.  Perry calls it a "Ponzi scheme," and it probably is, but that doesn't mean Romney won't play politics with the issue.  (It wouldn't be a rip-off at all if Congress hadn't continually raided it over the last few decades.)  I know Romney has his problems with the health care system he created in Massachusetts.  It looks a lot like "Obama care."  But, Perry is taking even more heat from all ends of the Republican spectrum for supporting Al Gore back in 1988.  Will any of this have an effect on who gets the Republican nomination?  An NPR article tried to answer that question yesterday.  It said, "The relevant question to be asking, then, about whether either Romneycare or the Gore endorsement will end up playing a significant or decisive role, is whether party actors will care about these issues—and the answer to that depends a bit on which people we're talking about. Politicians and campaign and governing professionals, for example, have strong incentives to choose whoever they think is most likely to win. Party-aligned interest groups want a winner too, but they are especially interested, naturally, in the policy positions of the candidates. Activists tend to value ideological purity. All of them have a strong interest in a candidate who they can trust."  (Click her for the complete NPR story.)
This brings us to Congressman Ron Paul.  The mainstream media may be ignoring Ron Paul, but Dr. Paul has Rick Perry's complete attention.   Paul is everything Perry is not.  Like it or not, Paul is a true conservative, and Perry, well, he endorsed Al Gore.  Monday, in a post on Thehill.com, the title said it all: "Why Ron Paul scares Rick Perry."  The article goes on to say, "One of the cardinal rules of politics is "never attack down," meaning a front-runner should never attack or respond to an opponent who is far behind. Yet that is what Rick Perry is doing. He is intimidated by Ron Paul, and responding to Ron Paul. Why? The answer is that Ron Paul is a true libertarian and a true conservative, while the latest version of Rick Perry, the man who once championed Al Gore, is a phony conservative and can't even pretend to be a phony libertarian.   I have written repeatedly, Rick Perry is the ultimate pay-for-play government man, the exact opposite of a true conservative and a true libertarian. Ron Paul, whether one agrees with him or not, is the true libertarian and a genuine conservative in ways that Rick Perry can never be. That is why Rick Perry fears Ron Paul.  I completely disagree with the mainstream media and insider pundit consensus that Republicans now have a two-person race. I again predict that Rick Perry will self-destruct." (Click here to read the complete Thehill.com post.)
Rick Perry didn't get to be governor of a rich and powerful state like Texas because he's short on brains or political savvy.  The question, ultimately, will be which Republican candidate is most likely able to beat a sitting President?
You cannot underestimate the power of the Oval Office, and selling Barak Obama short is a big mistake.  Remember, Obama is a clever politician.  He destroyed the Clinton dynasty as a junior senator, which was a feat.    Like it or not, he pushed through his health care plan.  He also got a more than $800 billion stimulus bill passed.  Most recently, he got his way raising the debt ceiling by an astounding $2.4 trillion.   His main goal was to get funding for the government past the 2012 election—mission accomplished.  He dethroned Gaddafi in Libya and, before that, got Bin Laden in Pakistan.  Finally, Mr. Obama has already raised more than $86 million for his re-election campaign, and the election is still more than 13 months away!  Obama will not be a pushover, but he can be beat.  The big question is by whom?  Time will tell if Rick Perry can take the heat, or if someone else will step into the kitchen.