Charles Nenner – We Are in a Very Dangerous Period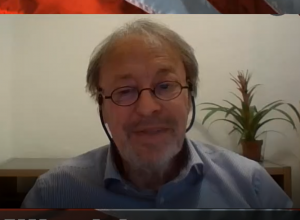 By Greg Hunter's USAWatchdog.com 
Renowned geopolitical and financial cycle expert Charles Nenner called this market just 2% from the top in January.  What does he think now?  He likes gold and says he "made more money in gold than in stocks" in the past few months.  Nenner says, "We are playing the long term gold market.  We went out at $2,100 (per ounce), and the price target was $1,850 (on the downside).  We hit $1,850 a couple of days ago, so we bought back in.  We get in and out for a couple of hundred points, and it's worthwhile.  So, the gold cycle is up for much longer.  $2,500 is the first target, and it could be we get higher targets.  I do not believe in the stock market, most of the markets we do nicely in are the gold market, silver market, crude oil market, bond market and the dollar.  It's all very simple and normal, and the stock market is not going to end very well."
Nenner is long the stock market now until close to the end of November.  Nenner says the rising market may be signaling a coming Trump win in November.  Nenner is not sure, but what he is very sure about is the stock market is way overvalued just like it was earlier this year.  Nenner explains, "As you know, the stock market is still very much overvalued.  One of the reasons is the 'Buffett Indicator,' and that is the value of the stock market compared to the value of the entire GDP, and it's extreme.  I think it's more extreme than the 2000 bubble.  If you want to buy low and sell high, you have to have indicators of what is low and what is high, and, for me, this is high.  This is based on the fundamentals, but on the cycles, we can try to test the highs one more time.  This is not going to end well because everybody will try to get into the market, and then the whole thing is over."
Nenner thinks with all the unemployment and businesses going under permanently, it is not an inflationary environment, at least not yet.  Nenner says, "I still think we are going into a deflationary environment, and that still makes sense.  That is also why gold is up.  Most people don't understand that because they always look for inflation for gold to go up.  I show them that most of the bull markets in gold are deflationary periods and not inflationary periods.  When you have deflation, there is nowhere to hide, and it's very cheap to hold gold.  You are afraid for the financial system, and that's why gold goes up. . . . Look what happened in real estate.  You thought you were safe in real estate.  Companies are not buying malls, and companies are not paying rent anymore, or they negotiate and they are not going to pay anymore.  So, that's also not a safe place.  So, there is not much left.  People go into gold and store it away for the worst case scenario.  If banks don't survive, they have the gold."
On the war cycle and the recent peace deals in the Middle East, Nenner says, ". . . .It is all putting pressure on Iran because they are all afraid of Iran.  They are going to make a pact to resist Iran, and the more Iran feels itself in a corner, the more dangerous it gets. . . . If we can go the next three to four years without a major explosion, then we are safe, but this is a very dangerous period.  This is another reason why the DOW can go down to 5,000.  I don't know what is going to do it, but something is going to do it."
Join Greg Hunter of USAWatchdog.com as he goes One-on-One with renowned cycle analyst and financial expert Charles Nenner.
(To Donate to USAWatchdog.com Click Here)
After the Interview:
There is free information and analysis on CharlesNenner.com. You can also sign up to be a subscriber for Nenner's cutting edge cycle work with a free trial period by clicking here.
This segment is sponsored by Discount Gold and Silver Trading. Ask for Melody Cedarstrom, the owner, at 1-800-375-4188.