Civil War Cycle Heating up in America – Charles Nenner (#2)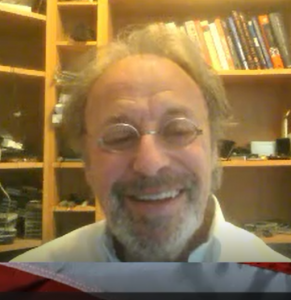 By Greg Hunter's USAWatchdog.com (Click here for Part #1)
Renowned geopolitical and financial cycle expert Charles Nenner thinks the probability for war and civil unrest is coming around in an intense cycle not seen for decades. Nenner says, "Years ago when we talked about my war cycles, I said I am more worried about internal social war in the United States than outside wars. I think there is a bigger chance in the United States than in Europe. They say it's Trump's fault . . . . I say it's the other way around. If the Democrats would just get things organized and people would not get that angry. . . . The media will always take the other side, so they will never solve it. I think it is the Democrats whose fault it is that all these killings are there and not the Republicans. . . . So, there is a cycle of social unrest in the United States, which is 60 years old. So, you go back to what happened in the 1960's. It could explode, and I think it is going to explode, and there is going to be a major problem. . . . I don't know how bad it is going to be, but based on cycles, it has to be worse than the 1960's. Each cycle always is worse. . . . WWII was worse than WWI, so every cycle becomes worse than the first cycle. . . . I don't feel comfortable living in the United States anymore because people are so aggressive on everything. I went to the airport and I asked where the men's room was, and they almost killed me. They said there was no men's room. It's called a 'people room.' I said I was sorry, you don't have to be so aggressive."
Externally, there is still much risk coming from Nenner's war cycle. Nenner says, "One mistake and it could ignite the whole situation. Now, we have the thing with Russia going on. It could come from anywhere. It's just a dangerous period."
Nenner has gotten the attention of some world leaders because he is forecasting a coming war cycle. Nenner says, "I am going to tell you a secret that I have not shared with anybody. You know that I was approached by a delegation of Russians, (in 2012) and I was invited to Russia because Mr. Putin has watched my war cycles and he is very interested. I've been already, and I just gave you a clue as to what's going on behind the scenes. . . . If you look at my website, you see me on Moscow 1 Channel with Putin."
Nenner will not disclose what he told Putin about his war cycle work, but he added that he "Works with the Chinese government also, and people in the East are esoteric and not as rational as the West likes to believe. . . . I find it interesting that I was on television with Putin and no American ever approached me as to what is going on over there. So, the whole world is in disarray."
Nenner also talks about Germany's Deutsche Bank, which the IMF has branded the "most dangerous bank in the world," and the long term outlook is not rosy.
Join Greg Hunter as he goes One-on-One with renowned geopolitical and financial cycle expert Charles Nenner.
(To Donate to USAWatchdog.com Click Here)
After the Interview:
There is free information on CharlesNenner.com. If you want to try a free subscription of Charles Nenner's cycle work, click here.
(Click here to see Part #2 of the Charles Nenner interview)
This segment is sponsored by Discount Gold and Silver Trading. Ask for Melody Cedarstrom, the owner, at 1-800-375-4188.