Cohen Tapes More Fake News, FISA Lies and Clapper Blames Obama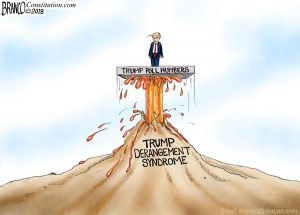 By Greg Hunter's USAWatchdog.com (WNW 345 7.27.18)
President Trump's former lawyer Michael Cohen is revealing he taped Donald Trump discussing paying a former Playmate for her silence. Cohen is also claiming Trump knew about a meeting with a Russian informant that supposedly had dirt on Hillary Clinton during the 2016 Presidential campaign. Talk about a story with no there, there. Even renowned legal Constitutional scholar Alan Dershowitz, a Democrat, does not believe the President's son committed any crime by meeting with the Russian source at Trump Tower during the campaign.  I see it as a big SO WHAT!!!The DOJ has released the documents surrounding the FISA applications to get warrants to spy on Donald Trump and his campaign. Even with massive redactions and nearly 200 missing pages, it shows the FBI and DOJ told lie after lie to the FISA court to get the warrants. The FBI and DOJ used phony research paid for by Hillary Clinton, which was also not clearly disclosed in any of the four applications to the FISA court. Many should go to jail for fraud. Now, President Trump has the proof when he calls the Mueller investigation a "witch hunt" and a "rigged scam."  Let's get real here.  What really, in fact, happened is many in the Obama Administration, RINO Republicans and the Deep State tried a coup and it FAILED.
Former Director of National Intelligence (DNI) James Clapper recently said on CNN that President Obama was the person "responsible" for the Mueller investigation and the phony Russian collusion story swirling around the Trump Administration. An even bigger story is how all of the mainstream media (MSM) simply ignored this huge bombshell. The man who worked for President Obama and oversaw the entire Intel apparatus in the U.S. laid the blame on his former boss in no uncertain terms. This is not a huge revelation?? It IS, and ignoring it exposes the MSM for the propaganda machine it really is. Is Clapper testing his defense strategy in case he gets charged for sedition or treason?
Join Greg Hunter as he looks at these stories and more in the weekly News Wrap-Up.
(This report talks about the bogus story of former Trump lawyer Michael Cohen, the FBI and DOJ lies to the FISA Court, and former DNI James Clapper blaming Obama for the "Witch Hunt" Mueller investigation into Donald Trump.)
(Correction:  At about 36:40 mark I referred to Trump as Obama.  I meant to say Trump in the 2nd term)
(To Donate to USAWatchhdog.com Click Here)
After the Wrap-Up: 
Top selling author of "The Trump Prophecies" Mark Taylor will be the guest for the Early Sunday Release. He talks about how more of his prophecies are coming true right before our eyes.