Covid Lies Cost 100,000 Lives –Mark Skidmore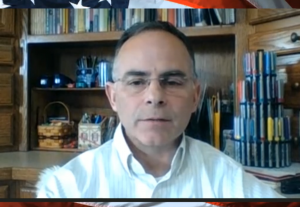 By Greg Hunter's USAWatchdog.com
Michigan State Economics Professor Mark Skidmore revealed more than three years ago, there was $21 trillion in what he called "Missing Money" from government books.  He's doing some new number crunching surrounding public policy and the effects on the Covid 19 (CV19) pandemic.  It's all laid out in a brand new report.  What he found is appalling.  One big fact his research revealed is up to 100,000 lives could have been saved by using Hydroxychloroquine (HCQ).  Instead, the medical community and the mainstream media trashed it and told people it was "dangerous" and it "did not work."  That was a total lie.  Dr. Skidmore explains, "So, we have all these countries that used it, and a number of countries, such as the United States, that for some reason did not use it and actually prevented it . . . claiming it was unsafe.  So, our estimate is if the U.S. just allowed it and made it widely available from the beginning, we could have saved 80,000 to 100,000 lives."
Dr. Skidmore said medical officials such as Dr. Fauci, who serves as the director of the U.S. National Institute of Allergy and Infectious Diseases, knew HCQ worked well against Corona Virus.  In fact, Dr. Skidmore goes on to point out, "There was a paper published in the Virology Journal in 2005 . . . this is the outfit that Dr. Fauci oversees . . . . So, their journal published this paper that said HCQ was effective in treating the Corona Virus.  The people who authored this study had been a part of the CDC at the time.  So, we have known this for a long time. . . .We also now know there are as many as 200 peer reviewed studies that say it is effective if taken early on when somebody gets sick.  It's pretty overwhelming evidence if you take it early on, it's extremely effective."
That's not all that works, and this too was suppressed and trashed by most of the medical community.  Ivermectin, Vitamin D, Vitamin C and Zinc are a few that are also proven scientifically effective to reduce or obliterate CV19.   Dr. Skidmore says, "These are inexpensive ways to help protect yourself and your family. . . . It's overwhelming evidence that these different types of treatments are very effective."
Another revelation of Dr. Skidmore's study was the CDC changed the definition on how to count CV19 deaths.  Skidmore says, "In the middle of the crisis last year, the CDC changed the definition on how you count fatalities, but they only did it for Covid.  It amounts to this, basically, the way we counted how somebody died, was you 'died of' some disease of some condition.  They changed the definition so that it was more characterized that you 'died with.'
And, if the CDC would not have changed the definition for Covid deaths?  Skidmore says, "I think we would have had far fewer deaths.  The data suggests that. . . . If they used the old number, there would have been less (CV19 deaths)."
Dr. Skidmore's study also points out that the vaccines were never approved by the FDA.  Dr. Skidmore explains, "You can look it up.  The vaccines are only authorized for emergency use, which means it's experimental, and it's still experimental.  They are tracking it all. . . . The (vaccine) fatalities are now up to 3,000, and there are many strange and unusual side effects that have occurred.  It's the same thing in Europe and other places.  There are many reports of neurological problems, blood clots and a range of related issues. . . . There are all kinds of negative reactions and the question, from a pure cost benefit, is how many lives are saved as opposed to how many lives are damaged from the treatment (vaccines), and we don't really know what the injuries are, and we don't know what the long run effects will be."
Join Greg Hunter of USAWatchdog.com as he goes One-on-One with Michigan State University Professor Mark Skidmore, founder of Lighthouse Economics.  (There is much more in the 45 minute interview.)
(To Donate to USAWatchdog.com Click Here)
After the Interview:
Dr. Skidmore has a new website called Lighthouse Economics, and you can find it at Mark-Skidmore.com.  Dr. Skidmore is a prolific writer, and his work and analysis are free to the public.
To read Dr. Skidmore's latest work called "A Cross-Country Analysis of the Determinants of Covid-19 Fatalities," click here.
To get the link to a real-time database and meta-analysis of 593 COVID-19 studies, click here.
To donate to Dr. Skidmore to fund Lighthouse Economics, click here.
To donate by snail mail, use the address below:
Lighthouse Economics 
P.O. Box 114 
Bath, MI 48808
This segment is sponsored by Discount Gold and Silver Trading. Ask for Melody Cedarstrom, the owner, at 1-800-375-4188.