Extreme MSM Propaganda, BLM Threatens USA, Farm Report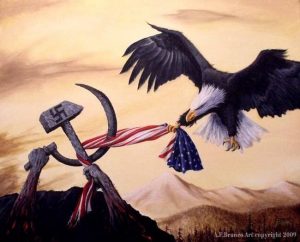 By Greg Hunter's USAWatchdog.com (WNW 437 6.26.2020
The propaganda psyop has officially kicked into high gear with the latest New York Times poll saying Former Vice President Joe Biden is 14 points ahead of President Trump. This is a candidate hiding in his basement who cannot string two sentences together, and he's beating President Trump? I am not falling for the phony polls and propaganda, and you shouldn't either. Do not trust anything the MSM says.
Black Lives Matter (BLM) leader Hawk Newsome said on FOX News that "If the country does not give us what we want, we will burn it down and start a new system." There you have it. One succinct sentence and that is the takeover of America by Marxist, communist, socialists. President Trump responded on Twitter calling what Newsome said as "treason, sedition and insurrection" against America.
Talk of food shortages are way overblown when looking how crops are shaping up all across the Midwest. The growing season is off to a very good start, and it looks like the harvest, barring drought, is going to be above average at least.
Join Greg Hunter of USAWatchdog.com as he talks about these stories and more in the Weekly News Wrap-Up.
(To Donate to USAWatchdog.com Click Here)
After the Interview:
Economics Professor Dr. Mark Skidmore is going to be the guest for the Early Sunday Release. Skidmore discovered $21 trillion missing from the federal budget, and he now has an update you do not want to miss.