Iran War is Only Matter of Time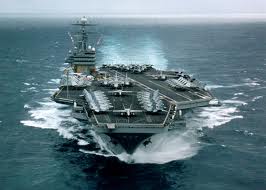 By Greg Hunter's USAWatchdog.com 
Two weeks ago, Iranians were saved from pirates on their hijacked ship by the U.S. Navy.  Last week, the U.S. military saved a sinking ship in the Persian Gulf.  It's too bad that will not be enough goodwill to stop the coming Iran war.  Headlines in the last few weeks look like a stark warning for a coming conflict.  The West, spearheaded by America, is putting into place tougher sanctions that will target Iran's financial and oil interests.  Tension has been increasing by the week over the nuclear program that Iran steadfastly claims is for the peaceful production of energy.  New sanctions will be fully implemented in about six months.
Iran has threatened to shut the Strait of Hormuz if sanctions are carried out.  Iran has also warned Gulf oil producers against boosting production if  an embargo stops or slows oil from the region.  (Click here for more on this story.)   The U.S. has warned Iran against any action to close this narrow shipping passage where up to 40% of the world's oil passes every year.  The Pentagon has flatly said it will not allow that to happen.  Meanwhile, the U.S. has warned Israel not to attack Iran.  The Wall Street Journal reported over the weekend, "U.S. defense leaders are increasingly concerned that Israel is preparing to take military action against Iran, over U.S. objections, and have stepped up contingency planning to safeguard U.S. facilities in the region in case of a conflict.  President Barack Obama, Defense Secretary Leon Panetta and other top officials have delivered a string of private messages to Israeli leaders warning about the dire consequences of a strike. The U.S. wants Israel to give more time for the effects of sanctions and other measures intended to force Iran to abandon its perceived efforts to build nuclear weapons."  (Click here for the complete WSJ report.) 
High ranking Israeli government officials are reportedly frustrated the U.S. is not moving faster to thwart Iran's nuclear program.  Reuters reported yesterday, "Moshe Yaalon, Israel's vice prime minister, contrasted the administration's posture to that of France and Britain, which he said 'are taking a very firm stand and understand sanctions must be imposed immediately.  In the United States, the Senate passed a resolution, by a majority of 100-to-one, to impose these sanctions, and in the U.S. administration there is hesitation for fear of oil prices rising this year, out of election-year considerations.  In that regard, this is certainly a disappointment, for now.'   Yaalon told Israel Radio."  (Click here to read the complete Reuters story.) 
Tensions are boiling even more since the assassination of a young Iranian nuclear scientist in Tehran last week.  Mostafa Ahmadi Roshan was killed by a car bomb.  The U.S. says it had nothing to do with the killing.  The Iranians suspect it came from Israel, but it has not officially taken responsibility.  No matter where it came from, Iran is outraged over what the West would surely call an act of terrorism if it happened on their soil.  The New York Times reported last week, "Iran expressed deepening fury at Israel and the United States on Thursday over the drive-by bombing that killed a nuclear scientist in Tehran the day before, and signaled that its Islamic Revolutionary Guards Corps might carry out revenge assassinations.  News of the scientist's killing dominated Iran's state-run news media, which were filled with vitriolic denunciations both of Israel, seen in Iran as the main suspect in his death, and the United States, where top officials have gone out of their way to issue strongly worded denials of responsibility.   Israeli officials, who regard Iran as their country's main enemy, have not categorically denied any Israeli role in the killing, which came against a backdrop of growing pressure on Iran over its disputed nuclear program."  (Click here to read the complete NYT story.) 
The story is confusing and U.S. officials past and present seem at odds over Iran's nuclear program.  U.S. Defense Secretary Leon Panetta said a little more than a week ago, "Are they trying to develop a nuclear weapon? No. But we know that they're trying to develop a nuclear capability, and that's what concerns us."  (Click here for the complete story.)  John Bolton, former U.S. ambassador to the United Nations, said over the weekend Iran could have a bomb in "less than" a year.    (Click here for more on that story.)  All this is taking place against a backdrop of a U.S. military buildup as another new carrier battle group is in the Arabian Sea and another is on its way.  (Click here for more on this story.)   Is this all part of a plan for the Middle East that U.S. General Wesley Clark (Ret.) talked about in March of 2007?  Clark said the U.S. military was mapping out a systematic take-down of Iraq, Syria, Lebanon, Libya, Somalia, Sudan and Iran.  (Click to hear General Clark for yourself.)  
Plan or no plan, tensions are escalating, and it's not just with Iran, but China and Russia as well.  Both are allies, and both countries have said they would come to Iran's aid if attacked.  Just yesterday, Russian Deputy Prime Minister Dmitry Rogozin said, "Iran is our close neighbor, just south of the Caucasus. Should anything happen to Iran, should Iran get drawn into any political or military hardships, this will be a direct threat to our national security."  (Click here to read more on this story from Russia Today.)  Attacking Iran will not be as easy as attacking Iraq, Afghanistan or Libya.  Those countries had no allies, but Iran is different.  China and Russia provide substantial military muscle.  If Iran is attacked for not backing down on its nuclear program, this could turn into a nuclear World War III in short order.