Mainstream Media Puts Good Spin on Bad Real Estate Market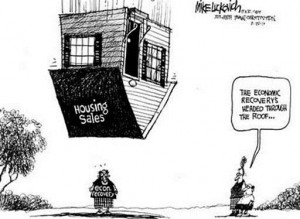 By Greg Hunter's USAWatchdog.com
More and more, I am finding stories produced by the mainstream media where the headline doesn't jibe with the actual story that follows.  A USA Today (newspaper) story from the "Money" section yesterday is a great example of what I am talking about.  The headline read "Rising home sales point to a recovery." On the very next line, just under the headline, the sub-headline read "Prices expected to keep falling 5% to 7% this year." So we have a recovery but prices are falling?  What kind of a recovery is that?  The story goes on to say, "Sales of existing homes rose slightly in March but prices fell as the U.S. housing market continues to struggle." (Click here to read the complete USA Today story.) What are the writer and editor at USA Today thinking or even trying to say?  This sounds like a story about a struggling real estate market and, in fact, all the evidence says the market is struggling.  It is certainly not recovering.
For evidence of a struggling real estate market, I look no further than the USA Today story.  It said, "Yet median prices in March dropped 5.9% from March 2010 to $159,600. Distressed homes accounted for 40% of sales, up from 35% a year ago, the NAR says. Distressed homes, such as those in foreclosure, typically sell at a 20% discount and pull down market prices." Let me get this straight, "median prices in March dropped 5.9% from March 2010," and the USA Today story is projecting prices will fall another "5% to 7% this year." How is this a recovery in real estate?  On top of that, the "Rising home sales" are comprised of "40% distressed homes." That's up "35%" from last year.  That means 4 out of every 10 home sales are a foreclosure, and that seems to account for much of the increase in sales.  This is a recovery?
Mind you, I have done no research for this story.  I got all the material so far from the USA Today story.  Here's the kicker.  The story ends by saying, "High unemployment and underwater mortgages are also hurting demand. Almost 25% of homeowners with a mortgage owe more than their homes are worth. 'This means many households that want to move can't,' Dales says. (Paul Dales is a U.S. economist at Capital Economics.) Home sales may rise this year, but 'a meaningful recovery is a few years away,' he says."
"A meaningful recovery is a few years away." Then, why is USA Today doing a story touting a "recovery" in real estate?  This is obviously good spinning on a terrible real estate market.  According to a Realty Trac report earlier this year, a "Record 2.9 Million U.S. Properties Receive Foreclosure Filings in 2010 Despite 30-Month Low in December." (Click here for the complete Realty Trac report.) Banks took back a record 1 million homes, and the company is expecting another record foreclosure year in 2011.  Last month, the Thefiscaltimes.com reported, "Foreclosures are a necessary part of the healing process," says Mark Zandi, chief economist at Moody's Analytics. "And over the next two years, we're going to experience a considerable spike in them." Though some estimates are much higher, Zandi thinks 2 to 3 million more foreclosures will come through the system in the next two years. "The most severe ones are going to hit this year and in 2012," he says."  (Click here for the complete Thefinancialtimes.com report.) With two to three million more foreclosures in the works for the next two years, I don't see how USA Today can report there is a "recovery" in housing.
Housing starts are also in the tank with the rest of the so-called "recovery."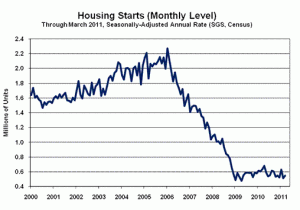 In his latest report, economist John Williams of Shadowstats.com said, "Like a ball bouncing down a hill, the regularly volatile housing starts series remained in downtrend despite a statistically meaningless one-month bounce."
Look at this monthly housing start graph from Shadowstats.com.  Does this look like a recovery?
I think the reporting in this story from USA Today is sloppy and inaccurate, at best, and outright spin doctoring a rotten housing market at worst. What do you think of the USA Today article?