More 2020 Election Audits, Forced Vaccinations, Mega-Drought Update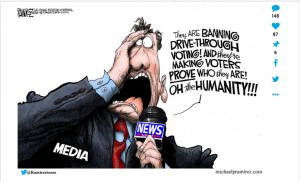 By Greg Hunter's USAWatchdog.com (WNW 484 6.11.21)
It is reported the Maricopa County Arizona 2020 Election audit is nearing completion.  When finished, auditors will have hand counted and inspected 2.1 million ballots.  Getting the audit started was months in the making as Democrats and their globalist overlords fought every step of the way.  Now, other states have sent representatives to tour the audit location to see how the audit was done.  States such as Pennsylvania, Georgia, Virginia and others have been on site in Arizona and are also talking about conducting their own 2020 Election audit.  Many say there was massive fraud in the 2020 Election in America.  Arizona will be the first state to verify that claim.
Some employers are forcing their workers to get the experimental CV19 vaccine.  The federal government said it will not require the vaccine for federal workers, but the Equal Employment Opportunity Commission (EEOC) says it's okay to force private workers to get vaccinated or be fired.  What gives?  Can the EEOC allow forced vaccinations that is against federal law and not required by the federal government?  Can the EEOC cancel the Nuremberg Code of 1947?  The answer is clearly NO.  Expect some huge court battles in the not-so-distant future.  Here is a form you can use to fight forced vaccination from your employer and the home page with other forms you can print too.
The "Mega-Drought" in the Western U.S. is getting so bad that some western cities may run out of water if this drought continues much longer.  The water for 25 million people is facing big problems with the worst drought in 1,200 years.
Join Greg Hunter as he talks about these stories and more in the Weekly News Wrap-Up.
(To Donate to USAWatchdog.com)
After the Interview: 
Data scientist and predictive linguistics expert Clif High will be the guest for the Saturday Night Post.  High will talk about CV19 vaccines, how to fight CV19, political implications for mass vaccination, coming chaos in the political and economic arena, Bitcoin, the dollar, gold and even if Donald Trump will make it back into the White House.  This is an extensive interview that you will not want to miss.  Clif High has a very accurate track record with his predictions he derives from internet data mining.