Smollett Distraction, Trump Coup Confirmed, Economy Tanking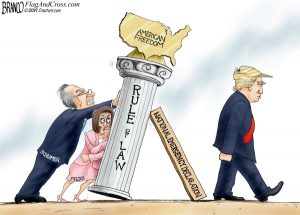 By Greg Hunter's USAWatchdog.com (WNW 372, 2.22.19)
Jussie Smollett may be a liar, but he certainly is a huge distraction for the real stories that should be getting coverage. The only reason why the Left is trashing Smollett now is he screwed up the false narrative of racism from MAGA voters.
The real story that was revealed is the total confirmation of the Russian hoax and failed coup by none other than former Deputy FBI Director Andrew McCabe on national television. CBS did an "accidental public service" by exposing what a former top federal prosecutor says is "sedition and subversion against the President of the United States." Many top Obama Administration officials are going to jail over this crime, and do not think otherwise. This is the biggest treason perpetrated on a duly elected President in history.
The economy is tanking. You can see it in a number of metrics. Car sales, home sales, new orders are all turning down. The only question is when will the Fed start a new round of money printing to save the day?
Join Greg Hunter as he talks about these stories and more in the Weekly News Wrap-Up.
(To Donate to USAWatchdog.com Click Here)
After the Wrap-Up: 
Martin Armstrong from Armstrong Economics will be the guest for the Early Sunday Release. Last time he was here, he said the economy would thrive because of economic moves Trump was taking. What will he say is coming now? Find out Sunday.
Dave Janda, host of  Operation Freedom (2pm to 5 pm Eastern time) , will be doing a deep dive on the border wall funding and why the recent bill President Trump signed will increase child trafficking.   Yes, that's right, increase child trafficking!!  It is not negated in Trump's signing statement, and Dr. Janda will have legal experts on to explain.  Don't miss this show!!!
Finally, USAW friend and regular guest Rob Kirby is in the hospital in the intensive care unit battling a pulmonary issue with his heart and lungs.  Please pray for his speedy recovery.