Spying Lying Exposed-Trump Proven Right, Economy Tanking, North Korea Update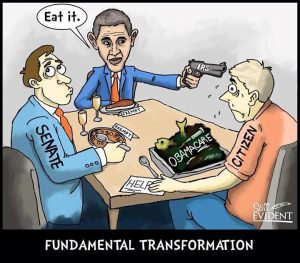 By Greg Hunter's USAWatchdog.com (3.24.17 WNW 277) 
Donald Trump was mocked by the mainstream media (MSM) for saying Obama "wiretapped" or spied on Trump and his top advisors. This week, Trump was proven 100% correct when information came out that President-elect Trump and his transition team were, in fact, wrapped up in government surveillance.  Information was illegally leaked to the press, and identities were illegally "unmasked" to discredit and embarrass the incoming President and his team.  This makes Watergate look like a squirt gun fight, and this investigation is now set to reveal "smoking gun" proof that the Obama Administration was involved in illegal activity.  This investigation is far from over and could directly implicate former President Obama.
Sears is in financial trouble, and is reportedly having trouble finding the money to keep its shelves stocked with merchandise. Sears, once the largest retailer in America, is saying that it could even be filing for bankruptcy within the year.  This is only the latest problem that has surfaced in the retail sector.  Macy's and JCPenney have also recently reported financial problems that have forced store closings.  Nearly two dozen other national retailers are reportedly in financial trouble.
North Korea has announced it will "launch another nuclear test in the next few days." It recently had a failed rocket test, and there are growing concerns with Japan and South Korea about threats North Korea is making.  Just a few weeks ago, it fired several missiles in a mock attack on Japan.  The missiles fell harmlessly into the Sea of Japan, but it still upset Japan enough to make threats of a preemptive first strike against the communist nation.  Secretary of State Rex Tillerson says "all options are on the table" in future dealings with North Korea.
Join Greg Hunter as he talks about these stories and more in the Weekly News Wrap-Up.
After the Wrap-Up:
Economist John Williams of ShadowStats.com will be the guest on the "Early Sunday Release." Williams says President Trump has a short amount of time to get the economy going.
(To Donate to USAWatchdog.com Click Here)