WNW 186-Senate Gets To Approve Iran Deal, Russia Sends Air Defense to Iran, Middle East Chaos Continues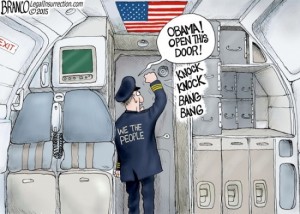 By Greg Hunter's USAWatchdog.com  
Congress is going to get a say in the upcoming deal to curtail Iran's nuclear program.  Congress has a veto proof majority they will require the President to allow Congress to give its approval.  Just this weekend, the President said that the "GOP had overstepped in foreign affairs" according to the AP.  Of course, that is preposterous; and, meanwhile, the AP continues to push the idea of a so-called "emerging deal."  There is no deal, and with Congress now involved, there is going to be no deal.  You simply cannot have Iran calling the Obama Administration liars and have a deal or an "emerging deal."   I think the Iranians heard the President announce his framework at the White House, and it totally conflicted what was said at the actual negotiating table.  Thus, the Iranians were outraged.  The Senate will require gradual lifting of sanctions and inspections, and the Iranians say those are deal breakers.  So, there is not going to be a deal.  This is all kabuki theater and nothing more.
You want more of a confirmation there is not going to be a deal to curtail Iran's nuke program?  Look no further than Russia stopping it's nearly 5 year ban on selling Iran a sophisticated air defense system.  If there was going to be a deal, why would there be an urgent need for an air defense system.  Please, also remember that Russia and Iran signed a military pact earlier this year.  I am sure that the Russians need money with the sanctions and falling oil price, and Iran can provide that as it has lots of cash.  This is very troubling because will there be a race to strike Iran before this new air defense system arrives?  Who knows?
Meanwhile, the rest of the Middle East seems to be descending into chaos.  In Yemen, it looks like al-Qaeda is gaining the upper hand over the Houthi rebels.  Both groups are considered to be terrorists.   Al-Qaeda is Sunni Muslim, and Houthi are Shia Muslim which are backed by Iran.  It looks like the bombing campaign by the Saudis is taking its toll.  Isn't this a losing proposition no matter who is victorious?  Either way, a terror group is going to end up controlling a major strategic spot in the world.  Yemen is in the gateway to the Suez Canal. 
In Iraq, the pendulum is swinging back in favor of ISIS.  A few weeks ago, Iraq military, along with a militia force partial to Iran, delivered a blow in Tikrit, and this week, ISIS is on the verge of controlling Ramadi, a key Iraqi city.  There is no end in sight.  The only prediction I can offer is more bloodshed and chaos in the foreseeable future.  The longer this goes on, the more unstable the Middle East will get.
Adding to the instability are reports that Iran is "ramping up" arming Hezbollah and Hamas in order for Iran to fight a proxy war against Israel.  The Golan Heights on the Israeli/Syrian border is a key target, and more fighting is anticipated in the south from Hamas.
Greece continues to be the canary in the EU coal mine, and so far, it is hanging on.  But its leaders say Greece is now in its own "Great Depression."  Greece wants a major debt cut, and the rest of the heavily indebted European countries will want the same deal.  If it gets a debt cut or if it does not, the outcome is going to be the same, and that is an implosion of EU banks and the 10's of trillions of derivatives propping them up.
The news is not much better on this side of the pond.  The so-called recovery is nonexistent, and there was more bad news out this week.  Housing starts are down and did not rebound with warmer weather as predicted.  Also, unemployment ticked up.  Economist John Williams at Shadowstats.com says housing and retail sales locked in first quarter contractions.  Williams calculates that retail sales fell a whopping 5% in the first quarter of this year.  How's that for a recovery?
Join Greg Hunter as he looks at these stories and more in the Weekly News Wrap-Up.