After Trump War Only One Party Will Be Standing – Kevin Shipp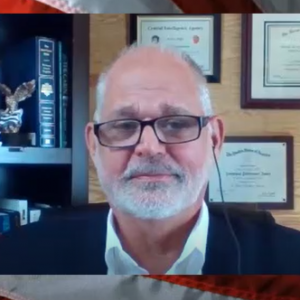 By Greg Hunter's USAWatchdog.com (Early Sunday Release)
Former CIA Officer and whistleblower Kevin Shipp says the political war over removing President Trump from office is heating up, and when it's over, things will never be the same. Shipp explains, "We are already seeing a brewing civil war in the civilian population in the United States. There is a war in Washington D.C. between (Congressman) Schiff and the others that are trying to eliminate the people's choice for President by American voters. That's what is going on. . . . You can see the violence on the streets, and it's getting worse and worse against Trump supporters. This is going to escalate almost monthly, in my view, as we see more violence and more splits in Washington D.C. It is so seminal all the way down to the corruption we are talking about, there has got to be only one party left standing. That is either the Trump Administration or the DNC and some of the globalists that want Trump out of there. Obviously, if the progressive Marxists win, they will want to change our Constitution. Only one of them is going to win and be left standing. That's how deep, dark and powerful it is. How many senior level officials are involved?  Only one party is going to be left standing, and it's going to get nastier and uglier by the month."
Some say that there have been no arrests or prosecutions, and patriots are getting frustrated with what seems to be inaction. Shipp says there may be a good reason for the Trump Administration to go slowly in dismantling the Deep State globalists in the government that are trying to kick Trump out of office. Shipp contends, "We are talking current and former high level U.S. government and former officials and heads of big U.S. corporations, and if these people were all taken down at the same time, it would cause a crisis in the U.S. government and instability. What that would do is affect the stock market dramatically. You may see a crash. You may see a devaluation in the U.S. dollar and on and on. This could cause massive problems for the U.S. economy. We are holding out hope that this is the reason for delaying to make this slow enough so it doesn't affect the ability of the U.S. government and the stability of the U.S. economy. So, it is very possible that's what's going on."
Shipp is not worried about government kicking down your door. He worries about out of control civilians going on a rampage. Shipp says, "You need to understand there is a crisis coming. There is war in Washington. There is war in the streets between the two cultural factions, and people need to protect themselves. I am not that concerned about government black booted thugs breaking into our houses. What I am concerned about is roving gangs of thugs hitting a fevered pitch breaking into homes, killing people and taking their things. That's where we are heading. People have got to understand they have to protect themselves. The best way to do that is plan ahead. No one knows when this is going to happen . . . point is people need to be preparing now for this because it is coming."
Join Greg Hunter as he goes One-on-One with former CIA Officer and counter-terrorism expert Kevin Shipp.
(To Donate to USAWatchdog.com Click Here)   (Update YouTube gave this monetization–finally!)
After the Interview:
Kevin Shipp writes a short brief almost every day on ForTheLoveofFreedom.net. The site is free. You can support Shipp with donations by scrolling down on his home page. You can also become a Patreon member for his in-depth presentations on counter-intelligence and cutting edge analysis of current events. Click here enroll on Shipp's Patreon page.